I don't get too many opportunities to drive cars beyond Moscow's infamously gridlocked road network, but as it turned out this BMW X2 review coincided with the need to travel a good way from Moscow by car. An ideal scenario for testing a realistic daily driven type of car, and possibly one of the most distinctive BMW models that is currently on sale.
Looking at the model ranges of the German car manufacturers, you could be forgiven for thinking that they're in some sort of odd contest to have the largest number of different models on sale. Gone are the times where BMW simply had the 3, 5 and 7 series. We're up to 1, 2, 3, 4, 5, 6, 7, 8 now, plus the "X" SUV range which runs 1 through 6 and then there are a couple of electrified cars that start with an "i" for good measure. Good times. Platform sharing and economies of scale has allowed car manufacturers to chase every tiny little gap in the market that may (or may not) exist, and the result is a gigantic amount of choice. Most of the time, there isn't a whole lot of difference in terms of the car's design aside from the exterior dimensions but the BMW X2 is a bit more special than that mostly because it looks very distinct from the rest of BMW's SUV lineup.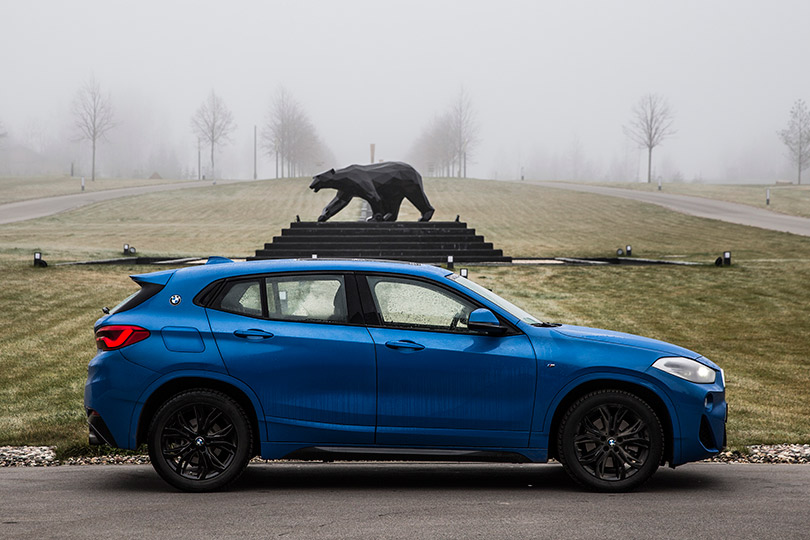 The X2 is built on the platform of the X1, so it has the same wheel base but it's a bit lower, wider and shorter. The seating position is quite a bit lower too, making the X2 very much a crossover SUV with a driving experience that isn't a million miles away from a regular sedan. I think its styling is best described as youthful, and you could perfectly imagine this car being just what a young family is looking for. It has become almost fashionable to criticise BMW's design department in recent years, but I actually think the X2 is a good looking car and most people seem to agree. I'm not entirely sure what they were thinking when they randomly slapped an extra BMW badge on each of the C pillars, but that's one of those things that you automatically stop seeing one you've had the car for a few days. This press car was painted in a rather sprightly blue colour, which I think suits this model enormously. For once, skip past the predictable grey or black and go for something a little brighter. Works well to my eye, anyway. The M sport package, which was fitted to this car, completes the look.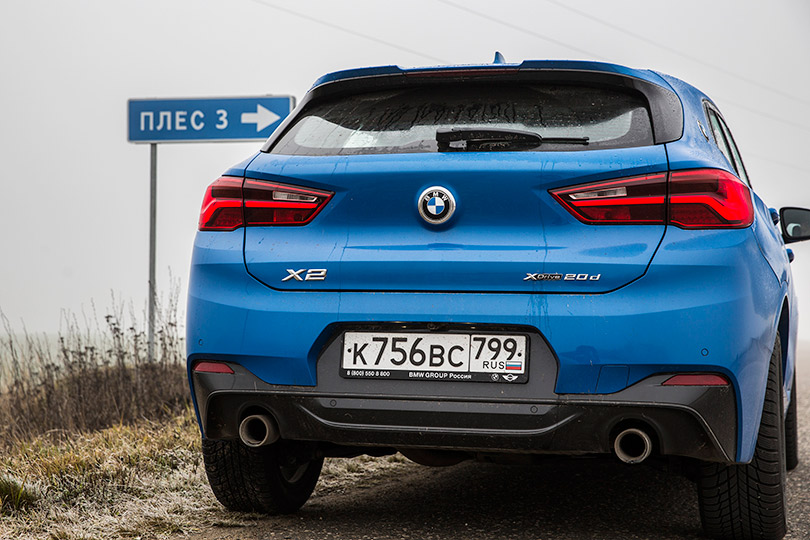 Stepping into the X2, the surroundings will feel familiar to anyone who's sat in a BMW of this decade before. The M sport steering wheel is still as excellent as ever, the now fully digital dashboard is very crisp and looks nearly analog thanks to some clever use of rings on top of the display. The centre console is easy to use with actual buttons, knobs and switches. Funny how much one can still appreciate a good old fashioned button in the age of the touchscreen. BMW also still uses its classic round control knob for the infotainment system, and it's easy and intuitive to use. The only slight oddity was the gear selector, which is rather long and a bit less premium looking than the shorter joystick-looking example that you get in the larger cars where the central tunnel is a bit higher up. Still, the X2 interior feels like a quality piece and it was entirely rattle free as well.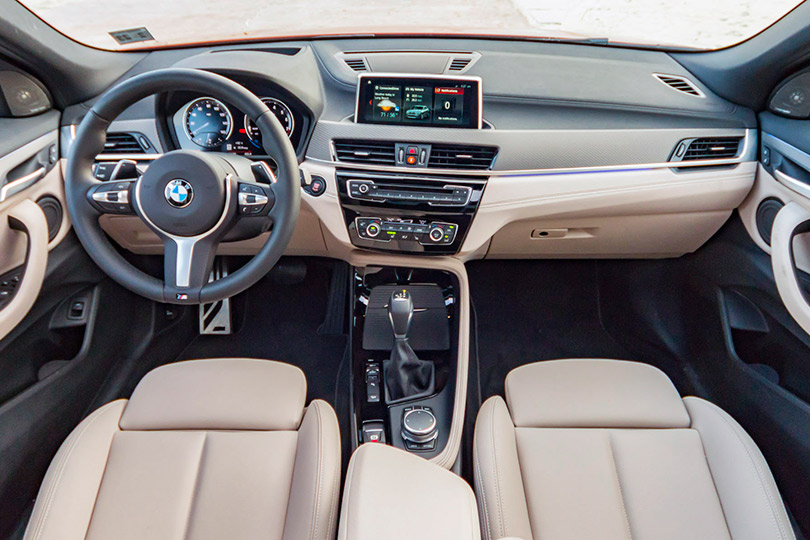 I ended up driving the X2 all the way to Plyos and back, which is a good 400 kilometres from Moscow and if you pick the wrong time, as I did, 7 hours of driving. Sitting in the car for that long made me appreciate the surprising comfort of the seats, resulting in only a single short stop between two long driving stints. The delay caused by unfavourable traffic conditions meant I spent much of the time driving in the dark over bits roads that could be called "terrible" only when you're in a particularly charitable mood. Which I wasn't, and even less so when the rain started but never stopped. Driving in an unfamiliar place when you can hardly see a thing outside is annoying at the best of times, but when you're in something of a hurry to get to your destination even more so. The confidence that the BMW X2 inspired was very welcome indeed and I was very happy that I was in this and not a sports car of some sort.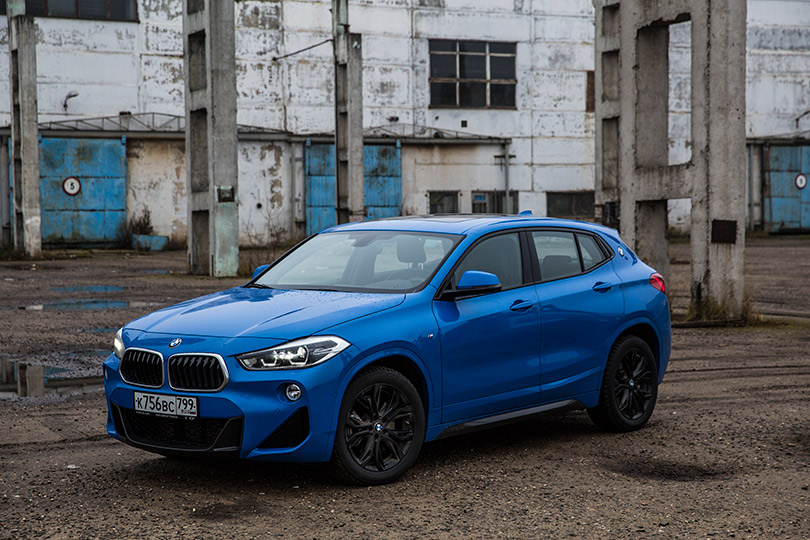 The X2 is certainly an excellent long distance traveler. The 2 litre Diesel engine fitted to this particular car is good for 190 horsepower and lots of torque which is helpful for overtaking cars when there isn't a huge amount of space. The 8-speed automatic shifts seamlessly to the point that shifts are actually imperceptible most of the time and only noticeable by looking at the rev counter in the dashboard. The engine also sips fuel so sparingly that I could easily do the 800 kilometre round trip to Plyos on a single tank of fuel, and my driving style has been called many things over the years but the word "economic" hasn't come up yet. One drawback of the X2's distinctive styling is the view through the back window. It's not quite a letterbox, but it certainly is a much narrower view on the world behind than what I'm used to seeing in the mirror of most cars. That said, BMW has made very little compromises on the actual room inside the car, so it feels every bit as spacious as an X1.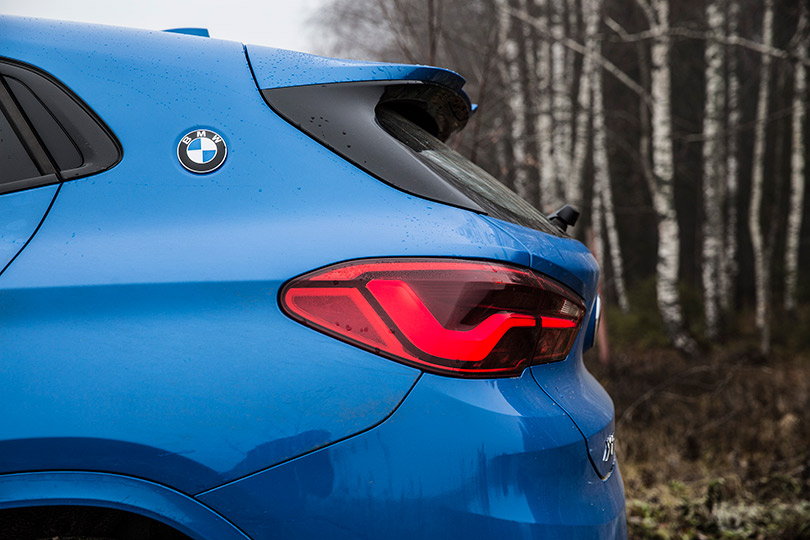 Engine choices for the X2 are relatively straight forward: they're all turbocharged four cylinders but you can choose between diesel or regular gasoline. The most obvious models for the Russian market are the 20i and 20d, both with Xdrive all-wheel-drive and about 190 horsepower each. Accelerating from a stop to 100 km/h takes less than 8 seconds for both, but on an everyday basis I think the diesel is going to be the better choice with its extra torque and lower fuel consumption. For a 4-cylinder diesel it is incredibly quiet and refined, too, even on a cold start which is traditionally a moment where diesel engines can be a little noisy. Not this one. The same 2 litre engines can also be had in 18i and 18d entry level variants where they make 140 and 150 horsepower respectively.
The engine is transversely mounted, so the X2 is a front wheel drive car in its most basic form. BMW's Xdrive all-wheel-drive system is then used to supply enough traction for the more powerful engines. This, combined with the fact that it is an SUV at the end of the day, means that it won't be challenging the regular 2 or 3 series from BMW in terms of handling. But the X2 is most certainly a very well handling crossover and as long as you don't start driving it in a way that you're really not supposed to drive a car of this type, it feels very much a real BMW in terms of steering and overall balance. Even the brakes have lots of feel and modulation when you use them firmly. I did find that, when in a traffic jam, the brake pedal required a bit more pressure than what was comfortable for my right leg and knee to maintain for long durations of time. Then again that might have something to do with the way some journalists drive press cars like these, perhaps the car simply needed some fresh brake fluid after 10.000 kilometres of abuse.
Ride comfort is very good, too, although the X2's sporty setup (by SUV standards) does mean it feels pretty stiff when you encounter a bad bit of road. There's no such thing as a free lunch, at the end of the day. I very much enjoyed living with the X2 a week, it's just a good natured car that does anything you ask from it. But aside from that I guess this particular model will be bought over an X1 or 2 series for the way it looks. While slightly quirky from some angles, the X2 has a way of being confidently proud of the things that make it different. Therefore, it is a lot more than just another number.