Photo: Jan Coomans
I usually
live by the motto «If you can't think of a good reason why not, just do it». That's pretty much how I came to reviewing a BMW M3 in the midst of an early winter in Moscow. It's never going to be the perfect winter car, but it could well be a lot of fun.
The BMW M3 is probably my favourite BMW model of all time, so just seeing that badge on the back kind of the car feels right. I also prefer the M3 over its twin sister, the M4. Obviously it's a matter of personal taste, but I like the fact that the M3 is a sedan with 4 doors. Being potentially usable as a family car always makes high performance cars seem cooler to me. Having 4 doors also adds a whiff of dignity and understatement in my opinion. At the end of the day though, the performance and driving experience of the M3 and M4 is pretty much the same, so you can't go wrong with either choice.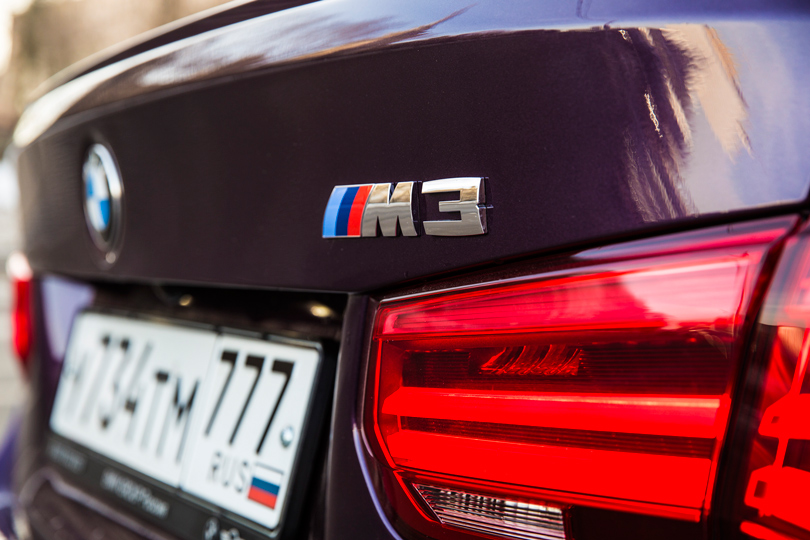 The M3 press car I drove came with two things that immediately caught the eye: special, rather purple, exterior paint and huge carbon-ceramic brakes. The brakes look even bigger than usual because they only just barely managed to fit into the smaller winter wheels. The paint deserves a special mention because purple is something of a cult colour in the BMW community. Posting a picture of your brand new purple M car on an online BMW forum in will raise your internet reputation to God status. This particular car had a BMW Individual colour, Purple Silk Metallic, but there's also Twilight Purple, Daytona Violet, Techno Violet and so on. A lot of purples. And I have to say, while I would think twice about ticking the «purple» box on a new car order form, it doesn't look at all bad in real. It suits the car and manages to be different without being offensive. If I was buying a used M3 I certainly wouldn't disqualify this one it just because it has this paint on it.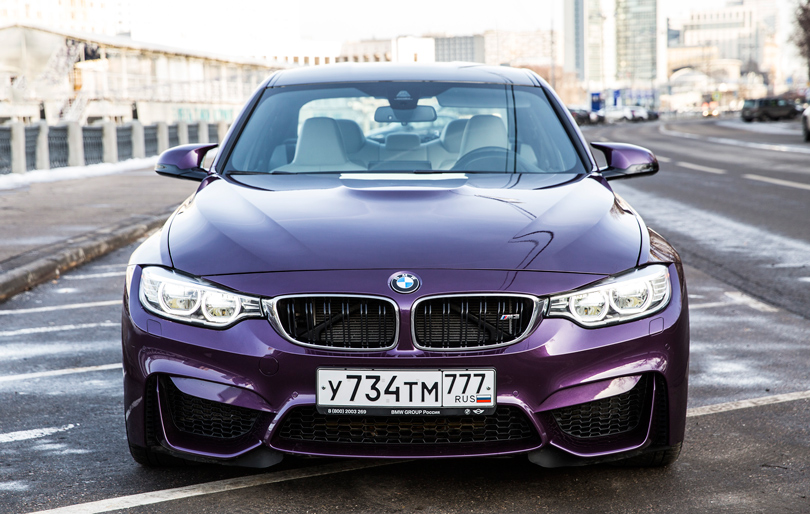 Family-suitable though it may be, the M3 still manages to look quite menacing. The front and rear bumper are very aggressive looking designs and the wider wheel arches make it look altogether muscular. It definitely doesn't look like a standard 3 series from any angle, least of all the roof of the car which is made out of weight-saving carbon fiber. The interior feels very premium too. That definitely wasn't the case with the M2 I reviewed earlier this year, but the M3 clearly sits higher up the pricing ladder and looks beautiful inside. The leather is soft, the carbon inserts look gorgeous and the seats are pretty much perfect for comfort and offer excellent support during cornering. Everything still operates the way we're used to in a BMW, so it doesn't take an engineering degree to figure out how to use it.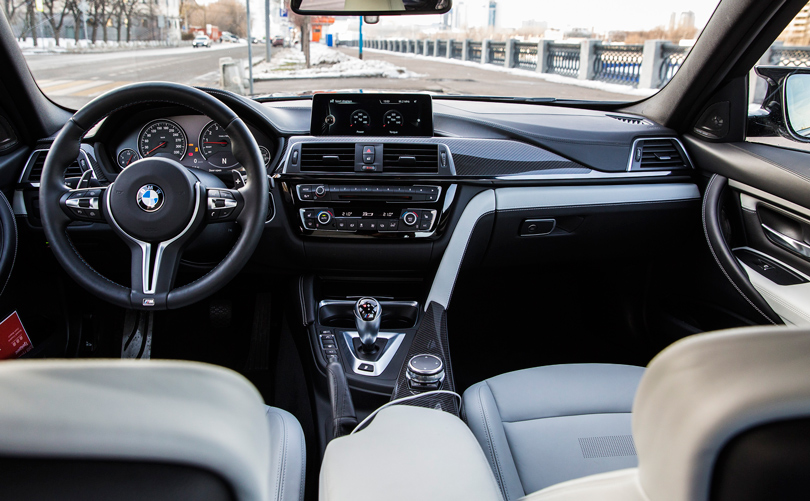 There are many things I like about the way BMW designed its interfaces. The gear selector, for example, is very logically thought out and succeeds in not quite feeling the same as your average automatic gearbox. Reverse gear requires you to push it left and then up, like a manual gearbox. There are other cool details, like the temperature gauge in the dashboard showing the temperature of the oil rather than the coolant. It might not seem like a difference to most people, but oil temperature is what matters for your engine's health. A water temperature gauge can fool you into thinking your car is fully warmed up when in fact the oil is still cold, and engines should be properly warm before being driven hard if you want them to last long. For this reason, BMW also has a variable redline on the RPM counter that can be as low as 5000 RPM when you start is cold, and gradually increases to 7500 RPM as temperatures go up. I still wouldn't go anywhere near 5000 on a cold engine myself, even when I drive press cars or rentals I tend to treat them less like a machine and more like a creature with feelings that I don't want to hurt. Once fully warm though, animals like these want to run as fast as they can so you ought to let them loose as much as possible.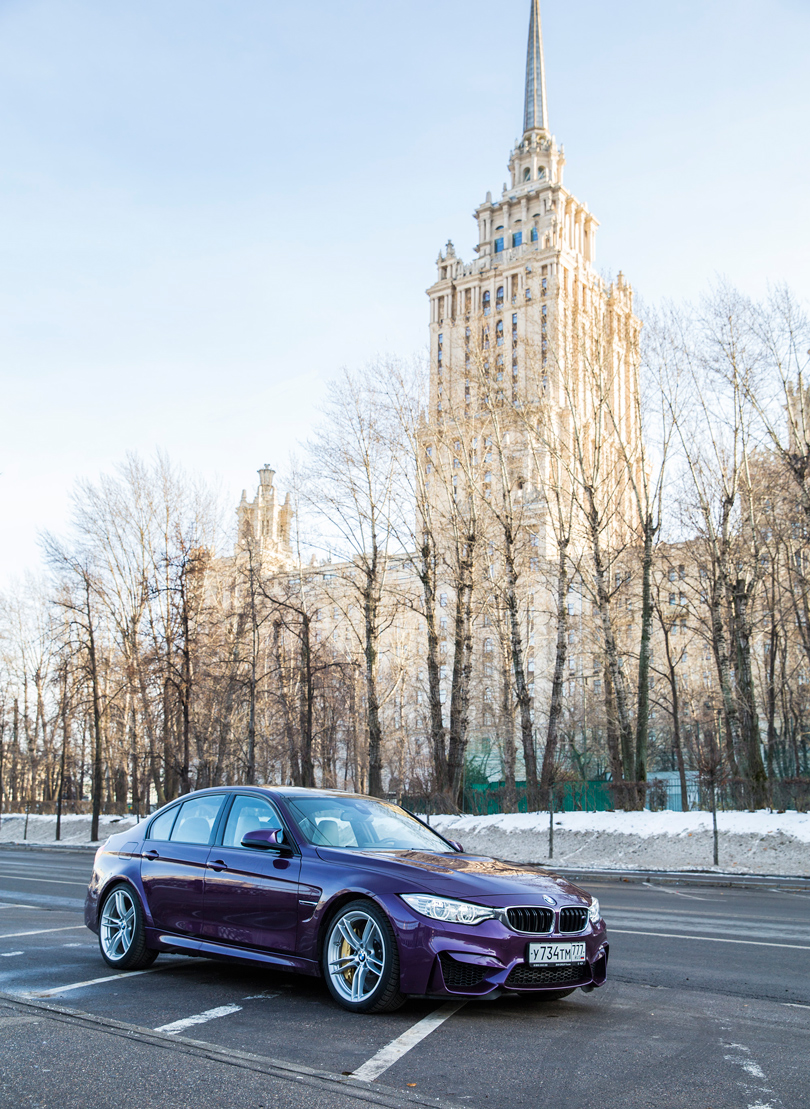 Driving the BMW M3 is a lot like having Dr. Jekyll and Mr. Hyde as your room mate. In comfort mode, it drives quietly and without creating any fuss whatsoever. You do feel that the ride is on the firm side, more so than your average family car, but it's still very well damped. Just firm. In automatic mode the dual-clutch gearbox shifts smoothly and economically, creating no drama whatsoever. It's a normal car! That changes slightly when you press some buttons and Mr. Hyde makes a sudden appearance. The sport exhaust opens up and creates significantly more sound both in and out of the car. It's angry. I won't pretend that it sounds as good and melodious as previous M3s, for reasons I will touch on shortly, but there is no doubt that it still sounds like it means business. The steering feel also gets heavier when you select sport or sport plus, but I found little advantage in using those modes. The steering feels light and accurate in comfort mode and making it artificially heavier did not seem like an improvement to me.
The carbon ceramic brakes, as expected, feel like they could slow down a freight train. Using your small toe to apply some pressure on the brake pedal is sufficient to slow down in a hurry. Braking performance is impressive and inspires great confidence, though I of doubt that the regular M3 brakes would feel any less good. The main advantages of these — rather expensive — optional ceramic brakes are mainly weight savings and the lack of brake dust keeping so your wheels stay cleaner. I do admit that they look awesome on the car, so I'll give it some points for that. One thing to keep in mind is that this kind of ceramic brake can be quite scary right after a car wash or if they get wet from driving through a deep puddle. For a brief moment it feels like they're not working at all until you compensate by starting to press the brake pedal very hard indeed. That's a feature of all ceramic brakes no matter which car comes with them, not specific to the M3 or BMW as a whole. So I'd be perfectly happy with standard steel brakes which feels just as awesome in terms of initial bite and ease of modulation, as I experienced in the M2 previously.
On to the engine, then. BMW claims its 3-litre twin turbocharged straight six S55 motor has 431 horsepower, which looks like a relatively modest increase over the previous M3 which had 420. But the new car has a turbocharged engine whereas the old one did not, and the numbers on paper do understate just how much faster the M3 has become. Up to about 200 kilometers per hour, the latest M3 is pretty much as quick as the previous V10-engined M5 was. That means it will leave the old M3 with the 4-litre V8 engine for dead. The car's official horsepower rating is definitely on the conservative side, as people who have strapped their new M3 or M4 to horsepower measuring stands have generally exceeded the factory numbers considerably. As a result, the M3 is now a changed animal to all previous generations. It does not build power gradually anymore nor does it sing while it is doing it. Instead, it kicks you in the back and shoves you forward while making intimidating sounds to scare lesser cars out of the way. It's considerably less Beethoven than the iconic engines of the E36 or E46 generation M3's, but you can still hear some of the quintessential BMW straight 6 DNA in it.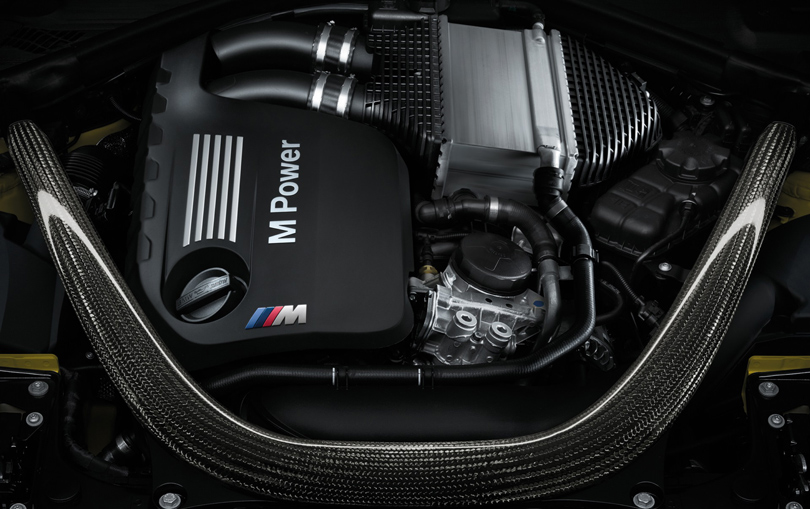 BMW has made sure that the new engine still revs quite nicely. It will happily spin to 7500 RPM and makes lots of power while it's at it. Many turbocharged engines kind of run out of steam a little as they approach redline, a behavior that isn't too well liked among enthusiasts but one which is fortunately absent in the M3. If anything, it almost feels like the engineers overcompensated by putting an extra step in power when you pass 6500 RPM. The last 1000 RPM are savage by any standard, to the point that you almost feel it's too early to change gear when the rev limiter comes in to spoil the party.
Being on winter tires, in less than ideal road conditions, did mean that traction for the rear wheels was difficult to find at times. Flooring the throttle pedal in first, second or even third gear meant a lot of flashing traction control lights and not very much acceleration. But what I found of great use was the MDM meaning «M Dynamic Mode» traction control setting. It gives you some amber warning lights on the dashboard suggesting that traction control is off, but in reality it only means that the rules have been relaxed a bit and the systems will allow a small amount of slip from the rear wheels. In practice, it still felt as safe to me as any other system that is designed to keep you from punting holes in roadside hedges. But suddenly there was a lot more traction available, the limited slip differential was not being allowed to do its job and the car accelerated very nicely even in slippery conditions. If you ask me, MDM should be the default setting of the traction control. It still offers complete safety but it doesn't shut the car down entirely at the slightest hint of traction loss. I guess the health and safety lawyers won that battle.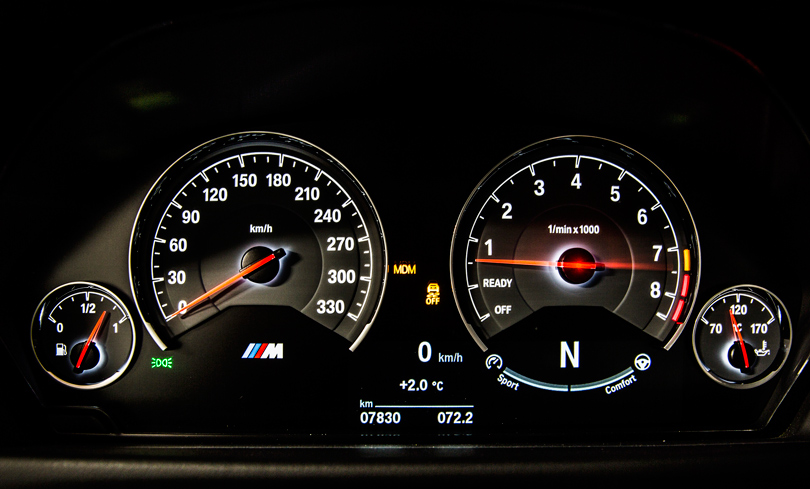 Predictably, the M3 I drove came with the M DCT drivelogic gearbox rather than a manual. It's by far the best choice for a car that lives anywhere near a city like Moscow, and it's pretty much flawless. Easy to live with, extremely fast and a lot more comfortable to use in traffic than a manual gearbox. But we ought to applaud BMW for still offering these cars with a manual transmission when its direct competitors have long given up. You can't get an Audi RS4 with a manual anymore, and the C63 AMG never had one to begin with. In this segment, the M3 and M4 are the last bastion of the manual transmission, and I hope BMW keep offering it in the future. I have no doubt that the car would be even more fun to drive with a manual gearbox, even at the cost of going a little bit slower.
As an all-round special car, the M3 is hard to beat. It has 4 doors and can carry plenty of luggage, but then it can also go around a racetrack at genuine sports car speeds without breaking a sweat or fading its brakes. It looks relatively inconspicuous as well, of course any connoisseur will spot it from a mile away but it does not scream to the whole world about its performance or price tag. I like that in a car. Of course it isn't flawless, the older generations of M cars had a certain finesse and tone of voice that the new one cannot quite replicate in its quest to be faster, more efficient, safer and more comfortable. Progress has a real price, but at the end of the day we need to keep things in perspective. Nostalgia is an easy trap to fall in to when driving a modern car, until you go and drive an old car for more than a few hours. Then you'll probably be happy to get back into your brand new M3 and appreciate just how good it has become at literally everything. Besides, in 10 years' time or so, we'll probably be missing this one just as much. It's a real M3, and it says so on the back.