I believe it's fair to say that the Bentley Flying Spur is anything but a spring chicken at this point. If it were a person, I imagine it would be that mildly eccentric member of a royal family who is senior enough that there's no-one who can tell him off anymore if he wants to wear a plaid suit with a pink tie in a quiet act of rebellion against the seriousness of life.
Of course, Bentley isn't really in the business of building truly mad cars. They're British, not Italian, after all. And now, in the 21st century, the technology that underpins Bentleys is decidedly German. Stereotypes aside, not a country known for exuberance. The overall result however is a car full of clues that the people who made it have a properly British sense of occasion — and humour. Look at the colour of the Flying Spur I drove for example. It's a kind of golden lava with some extra curry powder mixed in for good measure. If you painted something German like, say, a Maybach, in this colour it would look positively ridiculous. The Bentley, however, pulls it off effortlessly. I suppose it's not what you wear but how you wear it, and it can't be taught.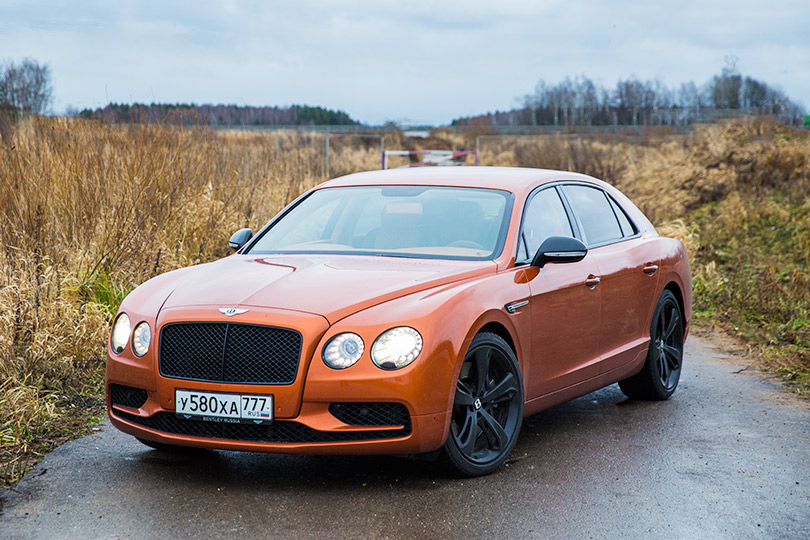 The Flying Spur is undeniably a big car, a rather unapologetic size XL I'd say. It's a Bentley after all, and they don't really do small. Even their GT3 racing cars were positively gigantic. All that leg room has to come from somewhere I suppose. In terms of proportions, though, I love the way the Flying Spur looks. Not only does it look right, it has a slightly villainous vibe to it especially when you look at it from the rear quarter. The way the C pillar slopes down at the back makes it look like the perfect (not to mention stylish) bank robber's getaway car to my eye. Especially with that W12S badge on it. But it's all really, really subtle. A vivid imagination helps. Should you dress the Flying Spur in a rather more under-the-radar colour like black or grey, though, it will no doubt look perfectly statesmanlike.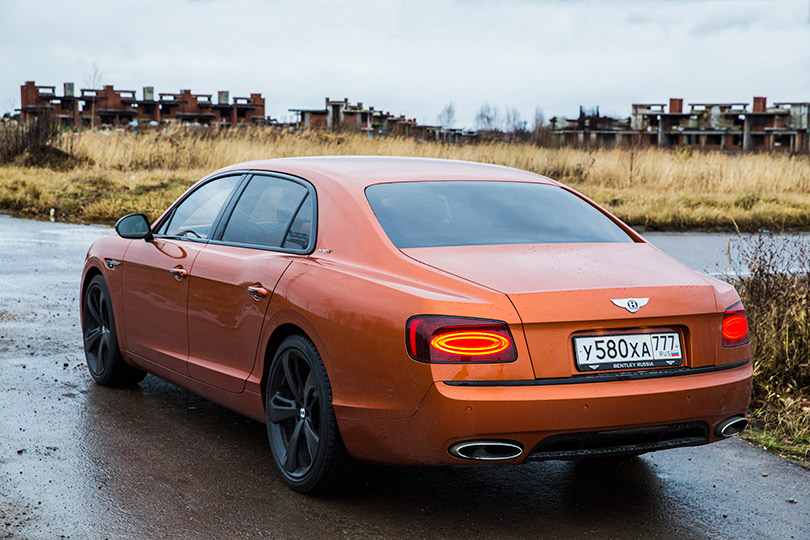 On the inside, we get more classic Bentley. Nearly everything you touch is either soft leather or solid metal. In case of this car, the interior colour closely matched the car's exterior paint minus the metallic effect of course. I thought it worked well. The seats are, naturally, excellent and made to keep your backside comfortable on even the longest of journeys. If I'd be choosing a car to drive around the the world with (not on the wet bits, obviously) it would be difficult to not go for a Flying Spur. Whilst looking hard for anything to complain about, at all, I did notice that some of the buttons on the steering wheel aren't very conveniently placed. Due to the general shape and design of the steering wheel, the buttons to adjust the volume and cruise control are angled downwards which makes them a little weird to use while your hands are holding the wheel normally. Though I suppose my thumb muscles could use the extra stretch once in a while.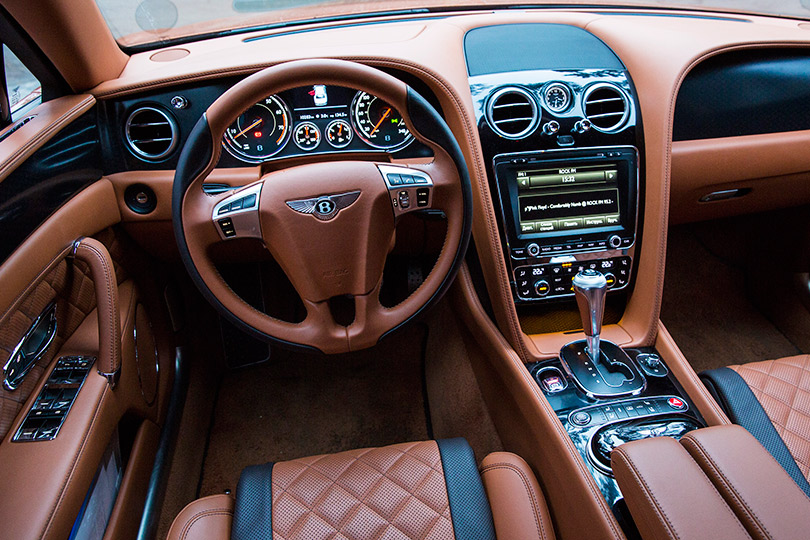 In some areas, the advancing age of the car's design does shine though. Like the fact that there's a regular metal ignition key that goes into a regular metal lock to the left of the steering column. It's wonderfully old fashioned, but its use is somewhat optional as there is also a keyless system that only requires you to have the key somewhere in the car before pressing the "start" button on the centre console. This may be the first car I've ever driven that has two entirely separate ways to start it.
The driving experience is, as you would imagine, a very smooth and quiet affair. The Flying Spur is aptly named as it tends to glide rather than send every little detail of the road surface into your spine. Clearly, this is not a car that is going to feel sporty at any point, but you wouldn't want this car to behave any other way. The suspension is so adept at smoothing out turbulence from the road surface that things like speed bumps become entirely ineffective for slowing down Flying Spurs. That's definitely a feature for the win column right there.
The drivetrain is one that we're already pretty familiar with from other Bentleys. The power plant is a 6 litre W12 with two turbochargers, producing a more than sufficient six hundred and thirty five horsepower and Jove knows how much torque. Probably enough to move Stonehenge a bit to the left. It's mated to what must be a very sturdy automatic gearbox, which cares more for your comfort than delivering snappy gear changes and as such is very pleasant. Finally, that great big heap of power is transferred onto the road via all four wheels so traction is never, ever, an issue.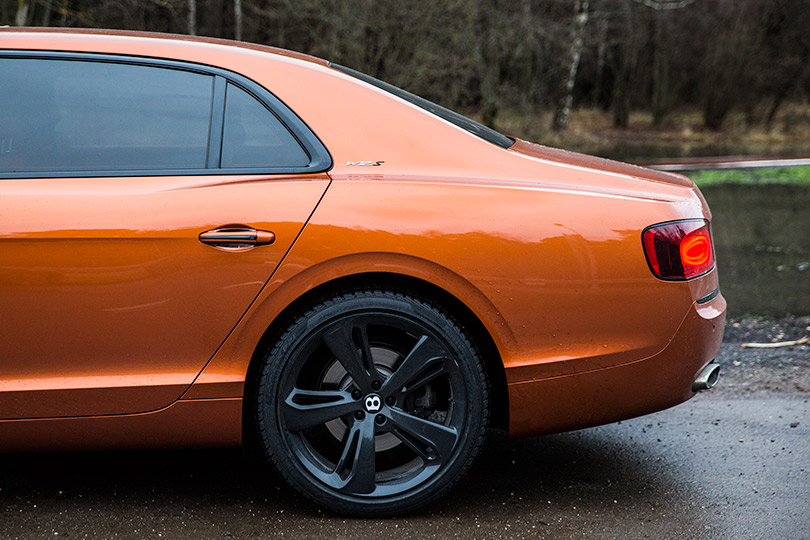 The W12 engine formula keeps getting more modern and more powerful, but if I'm honest it's not really an engine that speaks to my imagination. It does a great job at delivering copious amounts of shove when you press your right foot downwards, and is very quiet while it's at it, but the main reason it exists at all appears to be a mental thing. You see, on the off chance that anyone would ever ask you how many cylinders your car has, "twelve" is just about the coolest answer there is. Historically, 12 cylinder engines are as good and as expensive as things get. So it makes sense that Bentley's customers like seeing a 12 cylinder engine under the bonnet. Who wouldn't.
It's just that the W12 configuration, the main benefit of which is a much more compact engine than if the classical V layout were used, doesn't sound nearly as nice as an old V12. If a V12 sounds like two straight six engines wailing away in symphony, a W12 sounds more like three 4-cylinder engines having a heated argument with each other. It's a bit more chaotic than it is musical. Of course, sound hardly matters at all in a car like this. You barely hear the engine anyway as the sound dampening is so effective. But my honest opinion is that the 4 litre twin-turbocharged V8, which you can also get in the Flying Spur, is an engine which is inherently nicer and more characterful. For once, I'd take the smaller engine and probably be even happier for it.
At the end of the day, though, cars like the Flying Spur can't really be judged the way more ordinary cars usually are. Even within the Bentley range, I find myself applauding things on the Flying Spur that I wouldn't stand on the Continental GT. The new and upcoming Conti GT looks like it is going to be absolutely brilliant in ways that the old one simply isn't. But with the Flying Spur I'm not so sure I'd be waiting for the next generation to arrive. It has the right feel and character just the way it is now. It sums up an era, in the most gloriously overkill way possible. You just can't help but feel a little bit special when flying in it.