The 520 horsepower Audi S8 was already a bit of a well kept secret among car aficionados. It's one of the best cars Audi makes, though hardly anyone realized it as it doesn't have an RS badge on the back. As this generation of A8 is nearing the end of its life, the S8 Plus gets a last hurrah in the form of 85 extra horsepower. Does that make it even better?
I've always liked cars that are much faster than they look, and the S8 Plus might just be the stealth bomber among cars. You'll never see it coming, but it can utterly destroy the road you're driving on. Sometimes literally, as its 700 Nm of torque could well be enough to uproot trees never mind straining the road surface. Audi, sensibly I might add, never made an RS8 version of this car. You can only make a large luxury sedan sporty up to a certain point, beyond which you would simply be ruining the car. Instead, everything that was great about the A8 and S8 was kept as is, and they just added a bit of Plus. Which, in this case, means basically the same engine spec as the RS6 Performance gets. It's the very same 4-litre V8 engine with two turbochargers pushing out a whopping 605 horsepower, mated to the very same 8-speed automatic gearbox for good measure. The S8 Plus is as close to an RS6 sedan as you can get from Audi, albeit with a rather more sedate character. If the RS6 is a bit of a Hell's Angel, the S8 Plus is dressed and ready for Sunday mass.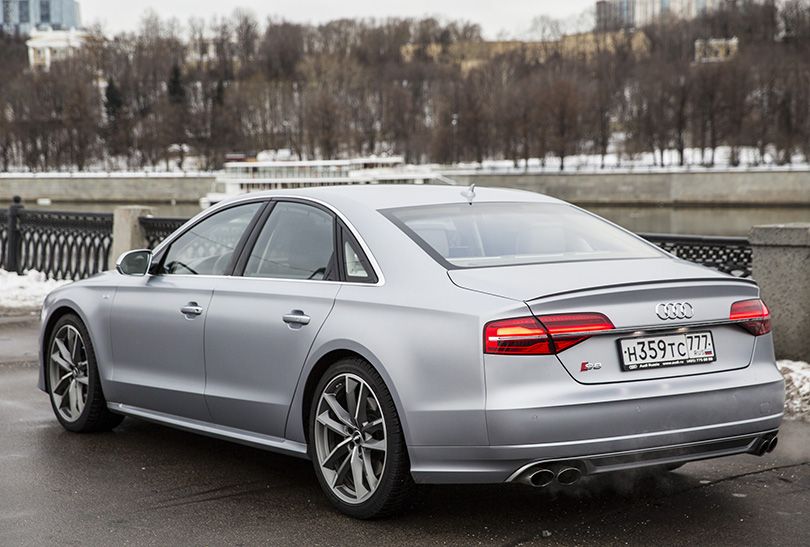 It's a bit unusual that I start of talking about the engine first and foremost, but Audi's 4 litre turbocharged V8 is worthy of some praise. It's famously overbuilt, capable of handling almost any amount of horsepower shy of one thousand. You don't have to look very hard to find online videos of tuned Audis with this motor destroying V12 engined Lamborghinis in a straight line. In standard form though, it just feels like you're tapping into an endless supply of smooth power. How fast would you like to go today, sir? Fast enough to smooth out the wrinkles on your forehead? That can be arranged. This engine and gearbox are used in cars as diverse as the RS6 and S8 to even the Bentley Continental GT, and it's easy to see why. It can do everything. It even tries to be moderate with its fuel consumption, using its cylinder-on-demand system to turn off some of its excessively many cylinders in situations were very little power is needed.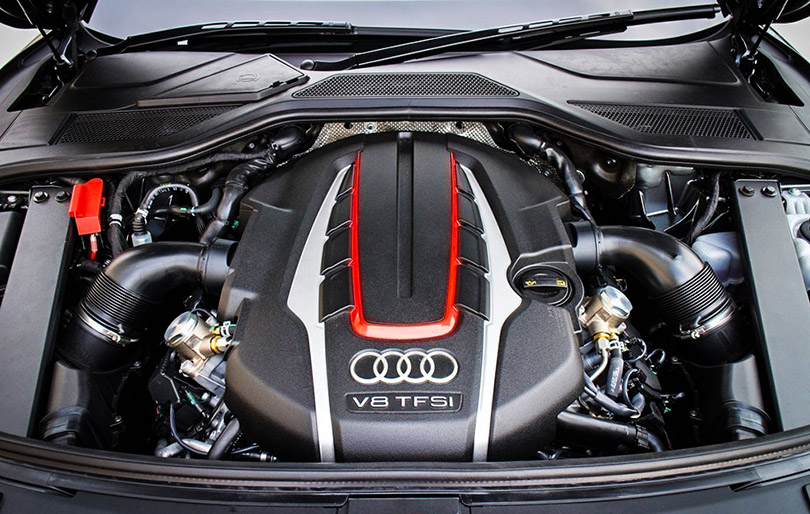 In the S8 Plus, this engine certainly doesn't shout as it goes about doing its job. There's just enough sound filtering into the cabin that you can tell you have a V8 up front, but that's about it. There are no loud noises nor are there any pops or crackles from the exhaust during full throttle gearshifts. Six hundred and five horsepower is a considerable amount of horsepower to transfer onto the road, but the Quattro all-wheel-drive system doesn't seem to make the slightest fuss about it. The combination of such a powerful engine with incredible traction means that the S8 Plus launches from zero to 100 kilometers per hour in well under 4 seconds. It must be said that the car doesn't particularly encourage you to do this on a daily basis, it feels too comfortable and relaxing for that, but my word does the S8 Plus move when you want it to. If you missed out on becoming an astronaut but always wanted to know what a rocket launch feels like, this S8 isn't a bad place to start. In any case, moving swiftly will never ever be a problem for this car no matter the season.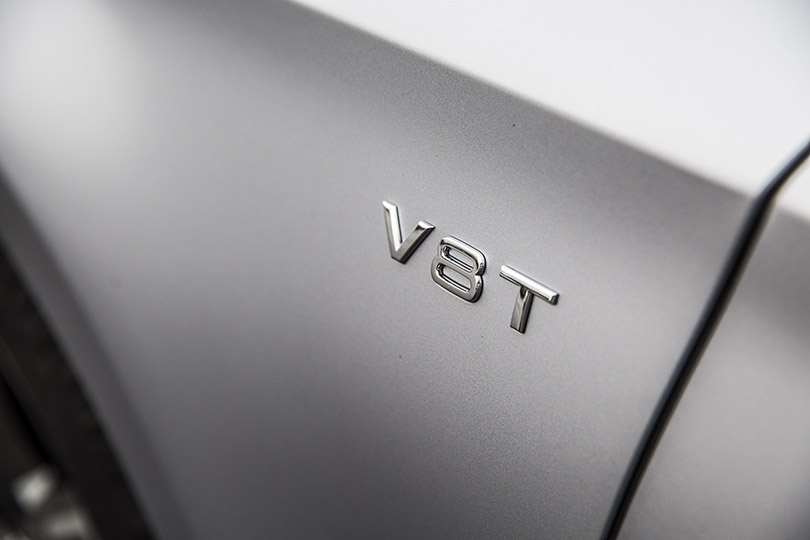 Surprisingly for a car which is objectively as large and heavy as the S8 is, without or without the Plus, it doesn't feel all that large from behind the wheel. It's clearly no Porsche 911, but it feels pretty much like a regular sedan rather than a luxury boat. Even if you, childishly, decide that you would like to enter a corner with an inappropriate amount of speed, the large Audi remains very neutral and resists understeer for a very long time. So long, in fact, that I don't think you'll ever find this car too understeered on public roads. On a racetrack, perhaps, but there would be absolutely no point in ever taking this car there. It's more at home on the German Autobahn, where it could outrun almost anything with its 300-Plus kilometers per hour top speed.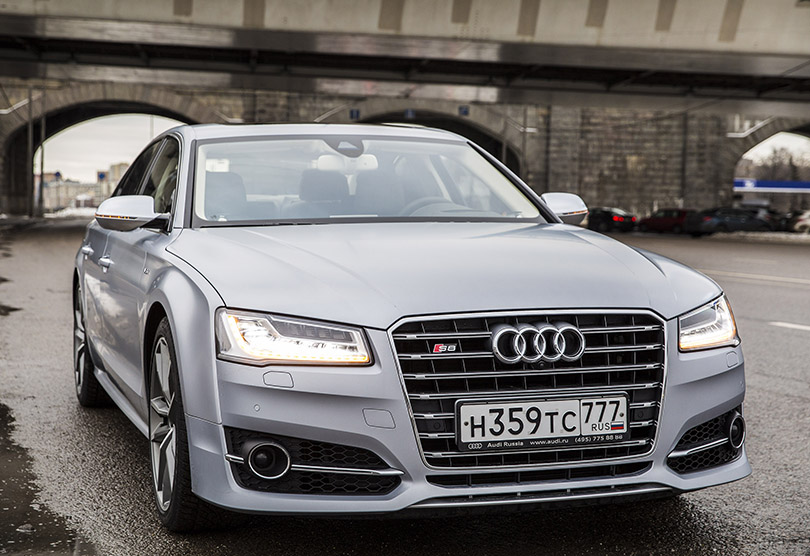 I personally like the S8's styling inside and out, but that's obviously a subjective matter. The silver door mirrors and quad exhaust tips are the only subtle clues that this isn't a regular A8, I doubt many people will notice the bigger brakes or the lower ride height. The S8 Plus manages to look perfectly dignified, while those «in the know» will quickly recognize that there's a bit of a maniac hiding under the bonnet. It's the same story on the road really, you can transport passengers in such a way that they would never be aware of the potential face-deforming acceleration that is available to whoever has their right foot on the throttle pedal. While the S8 Plus is clearly a little bit stiffer than the fully luxury-oriented A8, the level of ride comfort is still such that you have to drive both cars back to back to tell the difference. Speed bumps and road imperfections — quite the euphemism when driving in Russia admittedly — are filtered out by the suspension with a single barely audible thump.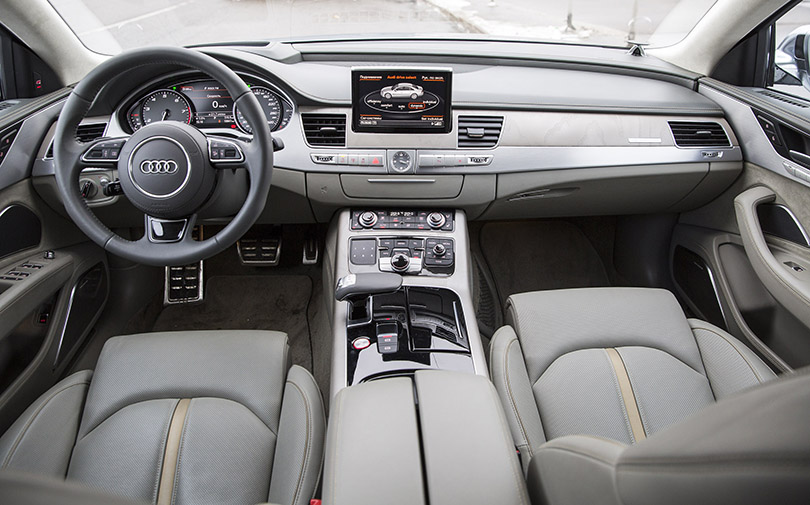 On the interior side, everything is laid out very logically and build quality is top notch. I can't say I'm particularly fond of the weirdly shaped gear selector which has made its way into all recent Audi designs, but you get used to it quickly enough. The soft leather seats are wonderful, even after the longest of traffic jams you still step out of the car with a certain amount of freshness. But it certainly feels pretty conservative on the inside, a good example of what early 21st century car interiors could be like. The upcoming new A8 looks like it will be decidedly more futuristic in its approach, but I can't say I felt I was missing out on anything in the current S8 Plus.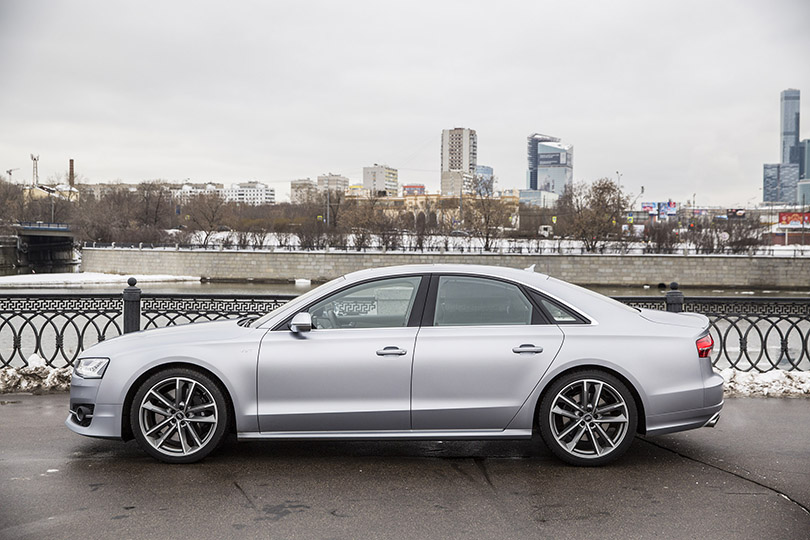 It's actually rather difficult to fault the S8 for anything, and whatever tiny annoyances you might find tend to be quickly forgotten when you open up the can filled with 605 horsepower that the Plus version has. It just has a tendency to forget anything remotely negative, which probably explains why I can't think of anything now. The S8 Plus is a dignified, comfortable, extremely fast car which has been around for long enough to know how to behave. Yet it's also still perfectly capable of beating up some punk kids should they step onto its lawn. It's the Audi S8, Clint Eastwood edition. I like it.