When it comes to all-wheel-drive family cars with silly amounts of power, Audi practically invented the game. They made the RS2. Then the RS4 and RS6. After that, the RS badge proliferated somewhat throughout the range, but the RS6 has remained quite a special car.
Starting off with some disclosure, the very first car I bought after arriving on Russian soil at the beginning of this decade was an Audi RS6 of the first generation. I eventually sold it and bought an RS4 instead, a car I still have to this day, so it's fair to say that I do appear to have a slight natural bias towards Audi RS models. For driving in the real world, which isn't a racetrack, I find that they just work very well for me as performance cars.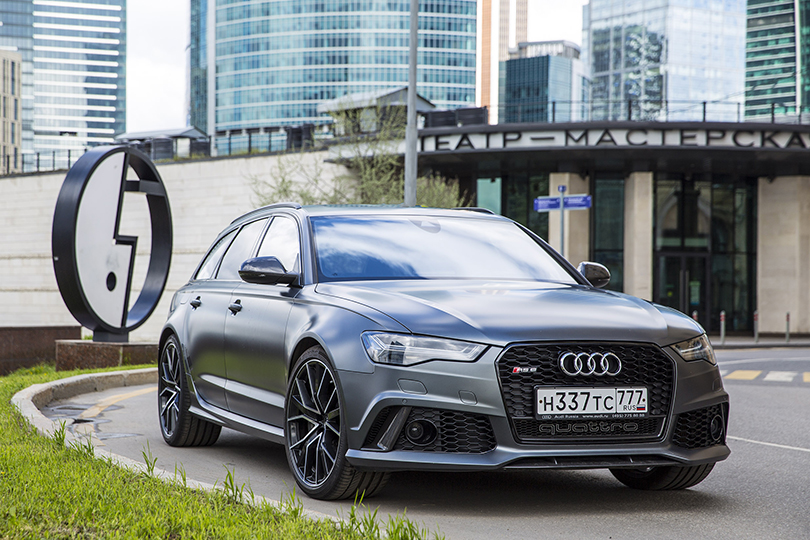 On to a bit of history. The very first Audi to sport an RS badge was the RS2, probably one of the maddest cars ever to see the light of day. It was massively more powerful than the S2 it was based on, that car itself already being a sportier version of the Audi 80. The RS2 had 315 horsepower courtesy of its turbocharged 2.2 litre 5-cylinder engine. Keep in mind that this was at a time when the BMW M3 had to make do with «only» 286 horsepower and nowhere near as much torque as the Audi. What also made the RS2 very special indeed was the collaboration with Porsche — to my knowledge (a decidedly finite resource, admittedly) it's the only production car that wasn't a Porsche to come with brakes that had Porsche written on it. And Porsche door mirrors. And it said «Porsche» on the engine as well. You bought an Audi, but it seemed to have more Porsche logos on it than Audi badges. They even assembled the car in a Porsche plant.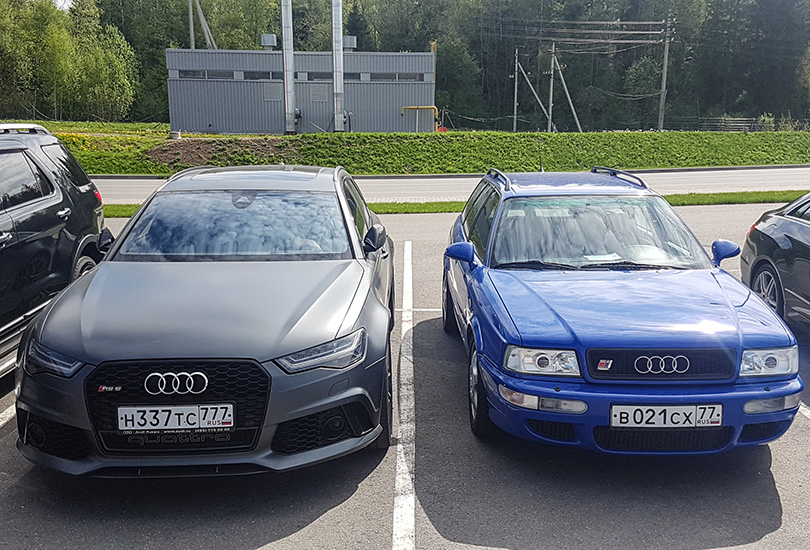 A chance meeting with the oldest ancestor of the RS6, the Audi RS2
The fact that we can't even imagine a car like the RS2 being build in the present day goes a long way to proving that the 90s weren't all that bad. Back then, I couldn't imagine what 315 horsepower would feel like, but I knew it had to be good. The RS2's success, when measured in what it did for the Audi brand rather than how many they produced, paved the way for nearly every fast Audi since then.
The RS models that followed were developed by Audi's daughter company Quattro GmbH rather than Porsche, as that initial partnership was never going to be sustainable for producing a serious amount of cars to serve the global market. Only for developing the engines of the original RS4 and RS6, upgraded versions of their existing 2.7 and 4.2 litre V6 and V8, did Audi contract famous British engine company Cosworth. The original RS6, with a twin-turbocharged 4.2 litre V8, is the one I ended up buying. With 450 horsepower, it had a full 50 horsepower more than the already ludicrously powerful BMW M5 of that time. It was the ultimate supercar in a family car shape. The only real drawback to this formula was that, on the whole, it also cost about as much as a supercar to run. In a way, it was ahead of its time. It wanted to do things that the technology wasn't entirely ready for — in particular the gearbox. The massive torque and power that the V8 produced was too much for the 5-speed ZF automatic to handle in the long term. Anyone who owned an RS6 of the C5 generation for long enough would eventually be presented with the bill to replace the gearbox.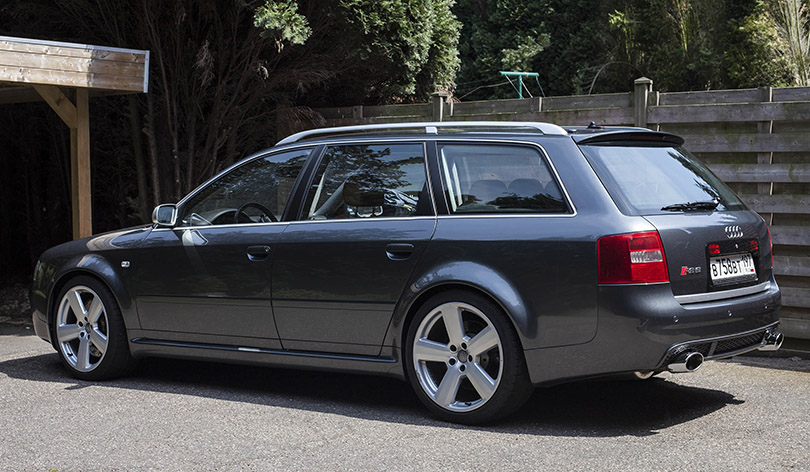 My ex-RS6, the first car I bought in Russia
The engine itself was certainly reliable, built stronger than it ever needed to be, but because it was so much larger than the average A6 engine it filled the engine bay to such an extent that many components were simply no longer accessible without removing the engine first. It's fair to say that, while I enjoyed my RS6 for several years, it remains the most expensive car I've ever had to maintain.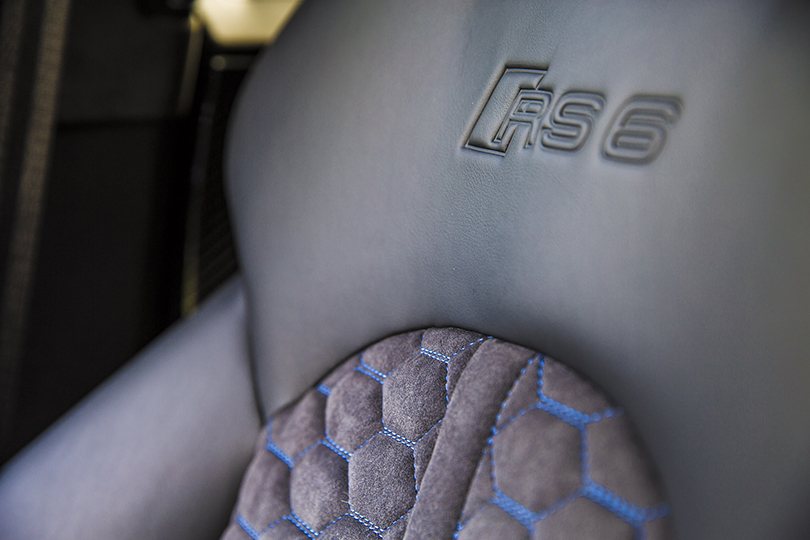 By the time the next RS6 came along, the C6, Audi had figured out how to get rid of the weak points. The C6 RS6 got an even bigger engine, a 580-horsepower V10, again with two turbochargers, but this time it also received a gearbox that could handle everything the engine had to give. It wouldn't be long before tuners would figure out ways to crank these cars up to 1000 horsepower and beyond, at which point even 2-ton monsters could become winning athletes at the drag strip. Pointless? Absolutely, but as a demonstration of technological progress it definitely counts. People who owned these cars, generally loved them. Car reviewers generally did, too, with the caveat that the RS6 still very much preferred the Autobahn to anything with corners. Of course, the average car reviewer isn't really like the average car buyer. People don't drive sideways through every corner, and a car's ability to do so is usually about as relevant as its ability to boil you an egg in the morning.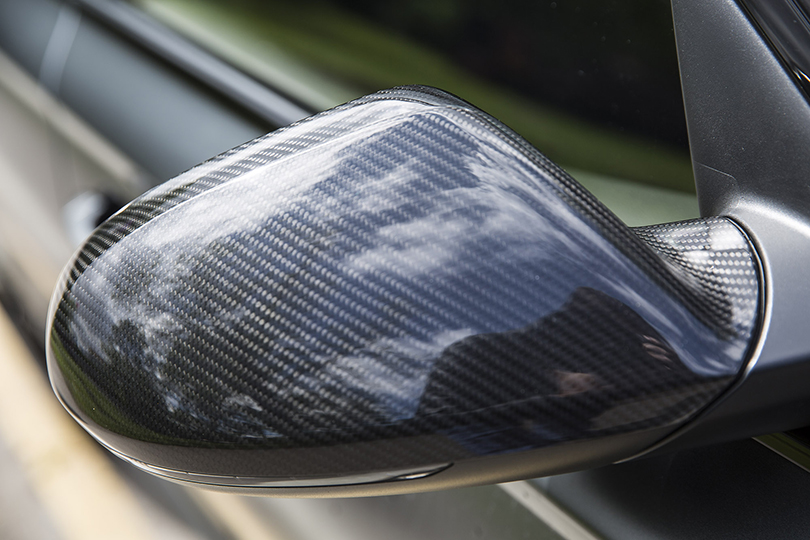 That brings us to the C7 RS6, specifically the RS6 Performance which I was fortunate to drive for a good while. The third generation RS6, it seems pretty much any complaints that could have been made about its two predecessors have been addressed. The 4-litre V8, still with two turbos, is a powerhouse. I've driven it twice before, in the the Bentley Continental GT V8 S and the Audi S8, and it doesn't feel like it's even breaking into a sweat at 605 horsepower here. The gearbox is the praised ZF 8-speed automatic which is used in more fast cars than I can list here, and the Quattro all-wheel-drive system still lives up to its name. But by far the biggest leap forward was made in the car's handling and suspension, finally providing a level of cornering ability and driver involvement to match its straight line vigour and stamina. Obviously, this is still a car that weighs two thousand kilograms. Which is a lot of kilograms. But its most obvious competitors, the Mercedes E63 AMG and BMW M5, aren't exactly anorexic automobiles either. Despite its hefty mass, the RS6 steers nice and direct and when you load up the front suspension in a corner, you get a pretty good idea via the steering wheel what's going on. Somehow or other, the RS6 has an enthusiasm for spirited cornering that you wouldn't expect in any Audi with four doors.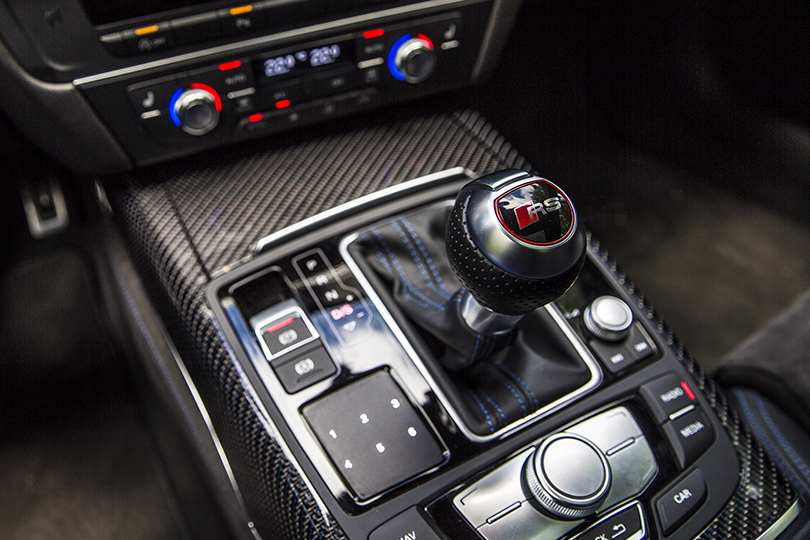 And the numbers are downright silly, really. The RS6 Performance will hit 100 km/h in 3.7 seconds. I grew up thinking a car that would 100 in 7 seconds was pretty fast, and this does it in half the time. That's firmly in «giggling uncontrollably» territory. That and «Slow down, grandmother has passed out in the back seat again». Yet regardless of how fast the RS6 actually is, the acceleration never feels all that savage. Brutal, maybe, but not savage. There's a level of dignity, and efficiency, to it. I even found it to be surprisingly economic with fuel, relatively speaking of course. The new 4-litre V8 doesn't use anywhere as much fuel as the old 4.2 did. For a car this large and powerful, I was genuinely amazed to see only 10 litres per 100 kilometres on a longer trip which mostly took place on highways. Even around the city I was barely exceeding 15 litres per 100km. I can't recall ever using less than 25 litres with the first RS6 in the centre of Moscow.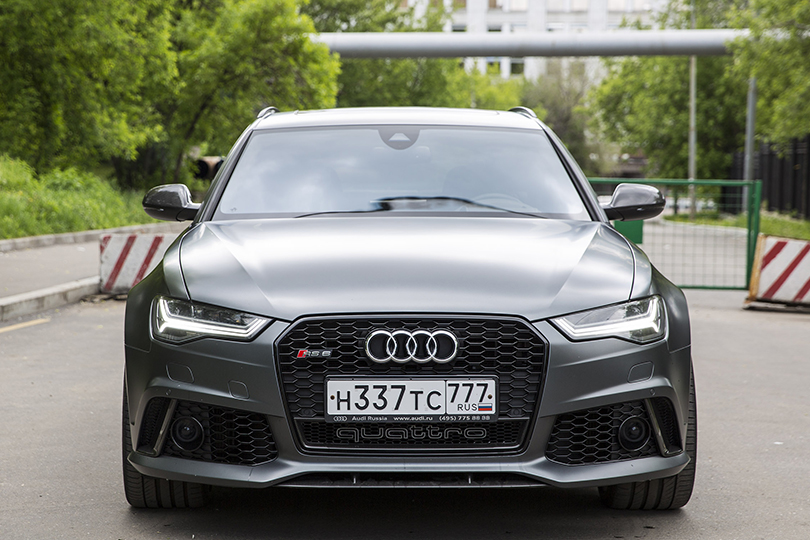 The RS6 Performance press car I drove wasn't equipped with the (very expensive) optional sports exhaust system by Akrapovič, probably a good thing as my neighbours hate me enough already. With the standard exhaust, I did sometimes wish that there would be a tiny bit more noise. In Sport mode, the classic V8 burble is just about audible inside the car, but apart from some machine-gun like pops from the exhaust when you let off the throttle at high RPM's there is very little drama to it. Which is fine, obviously, as I imagine the people who buy this will probably be grown ups. If it was mine I'd probably make it a little bit louder, but I can see the point of having a car that is this fast but still capable of driving your business partners around quietly and comfortably like any other luxury car. The RS6 is still very notably louder and more aggressive in terms of sound and power delivery than the S8 Plus I reviewed a little while back, even though it's the exact same engine.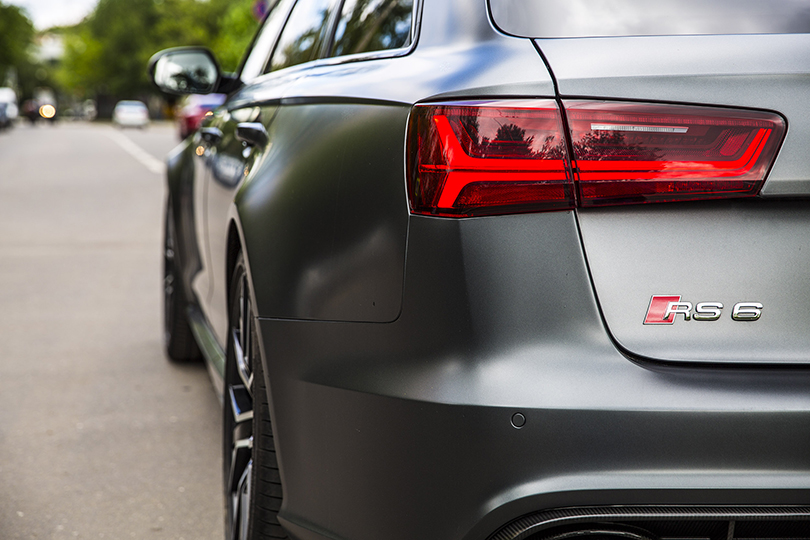 Comparing the RS6 to the M5 and E63, it's always going to depend on which brand speaks to you the most. If you're a BMW fan you're not going to buy the Mercedes or the Audi, choices like these are just never going to be entirely rational. Which is probably a good thing, because it's becoming ever more difficult for us journalists to tell you what makes these cars so different from each other. We used to think of an Audi RS as a turbocharged, all-wheel drive fast estate car. But now you can get that at Mercedes, and even BMW is moving the upcoming new M5 to an all-wheel-drive platform. Whether they'll make an estate version of it remains to be seen, but either way the german trinity of performance sedans is converging on a very similar design for their most powerful cars. It's true that they each still have very different ways of doing things, giving their cars a different character, but the large philosophical differences that once existed are disappearing rather quickly.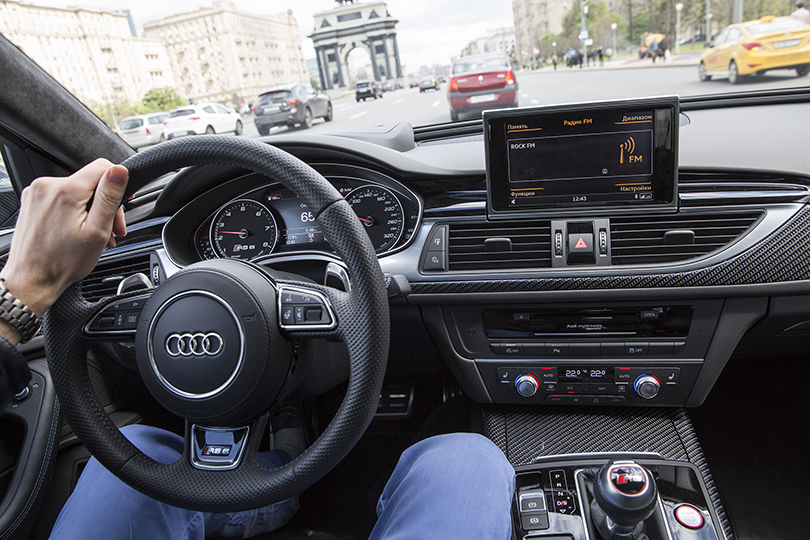 Is that bad news for the RS6? I don't think it is. There's a reason why, as soon as you land in an affluent place like Switzerland with its mountains and cold winters (not by Russian standards, I know) there's Audi RS cars all over the place. If you're not in the business of showing off, but you want a very fast car that will handle whatever nature throws at it, I think Audi still has the market cornered with the dignified insanity of the RS6. It's hard rock in a tailored suit.