For the third year in a row, which by my reckoning means it must be at least halfway to becoming tradition, I made my way up to Karelia to take part in the Audi Quattro Winter Experience. I had such a good time on the previous two occasions that I wasn't going to pass up on number three.
I'm probably not alone in thinking that warm climates are preferable to colder ones, but there are certainly a couple of upsides to living in a place that gets bloody cold in winter. And I can't think of a better one than getting to drive cars on frozen lakes. There's just no better place to hone your car handling skills, due to the combination of ice being inherently slippery and the virtually unlimited space out on the lake being completely free of things that you might crash into. So you're free to pitch a car into a turn on the ice track at a hugely optimistic speed and only then try to figure out how not to fly off and get stuck. If you run out of talent, well, the worst that can happen is that you'll need to wait a few minutes for the tow truck to arrive. Well, that and having to face your fellow drivers after you wasted a bunch of their time as they waited for your car to be rescued.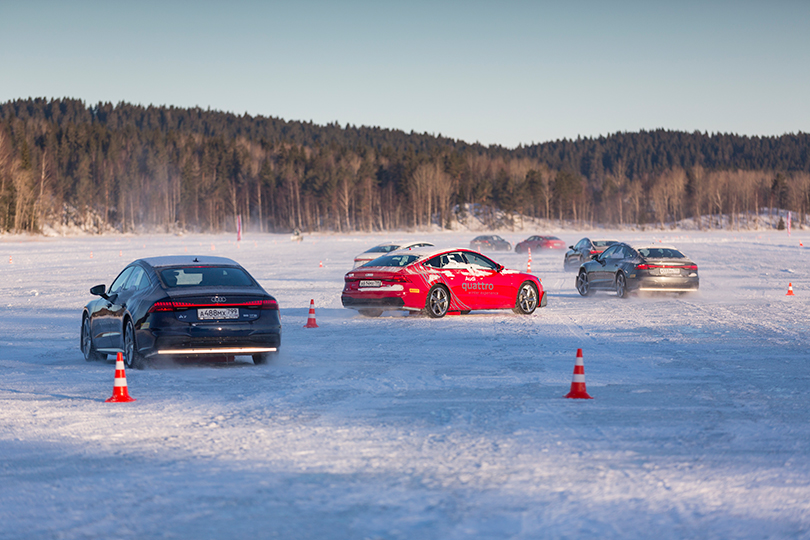 All this makes it a hugely entertaining event, but at that's not to say that it's all fun and games. The whole thing is run by the Vasin Driving School which was founded by Evgeny Vasin, rally legend. And they certainly take the training part of things very seriously, which makes the whole thing wonderfully educational. Then there is the automotive journalism angle, as we were supplied with Audi A7 and Q8 cars, both 55 TFSI, which feature two very different types of Audi's Quattro all-wheel-drive. Audi, as you probably know, practically invented the whole power-doing-to-all-wheels thing for road cars. So they know a thing or two about it. The Q8, which I recently drove in much less frozen Portugal, has what we can call a classic Quattro setup which uses Torsen differentials to send power from its longitudinally mounted engine to all wheels. It's a traditional style of permanent all-wheel-drive.
The A7, on the other hand, has Quattro with "ultra" technology. Which sounds kind of vague, I agree, but essentially the big difference with regular Quattro is that the engine is that it is no longer permanent as there are clutches which disengage drive to the rear wheels at times when traction is not an issue. You don't really need the all-wheel-drive system when you're driving in a straight line at a constant speed down the motorway for example. At times like that, the A7 is fully front wheel drive. But, and this is important, the reaction time of the system to re-engage the rear part of the drivetrain is very very short. So short that you probably wouldn't notice it, actually. Predictably, there has been some grumbling from Quattro purists about this latest innovation, so to get to try it out in some of the most demanding conditions for any all-wheel-drive system is more than welcome.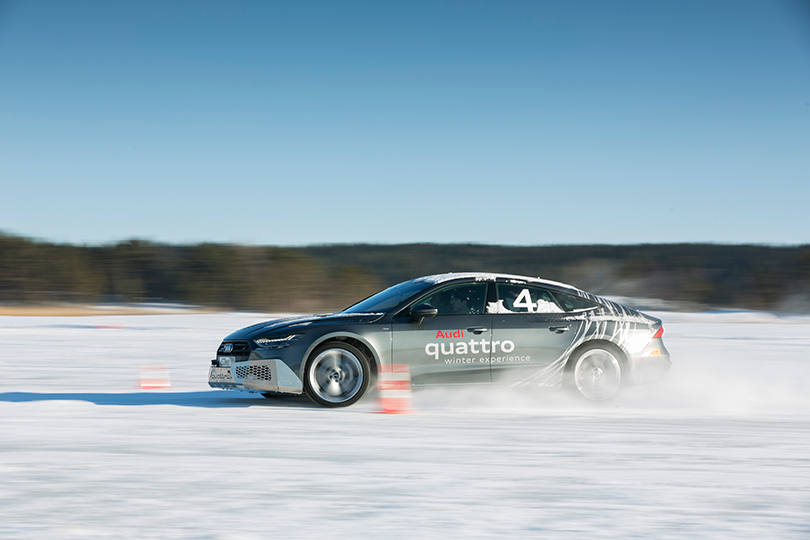 While any direct comparison is made difficult by the fact that the Q8 is a fairly large SUV with a regular automatic gearbox and the A7 is something in between a sedan and a coupe with a dual-clutch S-tronic transmission, I certainly didn't notice any particular difference in the drivetrain other than that the A7 had a slightly quicker response to throttle inputs thanks to its gearbox. Sure, the cars were always driven in "dynamic mode" which means that Quattro Ultra never disengaged drive to the rear wheels, but still it was enough to convince me that there is absolutely nothing to complain about. That's not to say of course that the A7 and Q8 drive the same.
When getting into the larger, heavier SUV you definitely need to scale back some of the aggression and respect its size. The Q8 seemed to respond much better to subtle inputs, you only needed to maintain a small steering angle and exercise a little patience before the back end would start to step out and helped point the front of the car to the apex of the corner ahead. If you overdid it slightly, or waited a little too long to apply some opposite lock, it would go very sideways pretty quickly. It was fast, too, though in outright speed the smaller and nimbler A7 was never going to be beaten. Still it did feel much more lively out on the snow and ice than the Q7 TDI we had used on previous occasions. In that regard, the Q8 is in fact as dynamic as it looks suggest.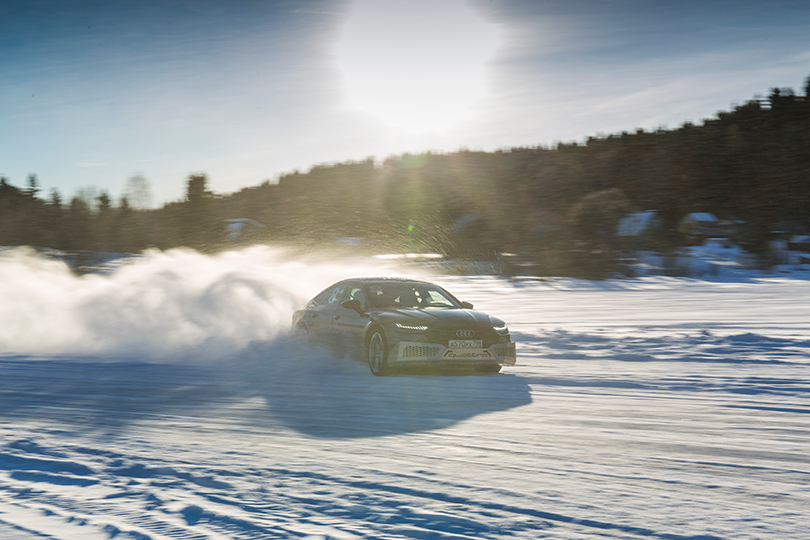 The A7 didn't mind strong inputs as much as the SUVs do, and actually drove much more like the A5's we tried last year. The only thing that let it down somewhat were the Pirelli Ice zero road tires that were fitted to all cars. I found them to deliver very impressive grip under acceleration and braking but because they are road legal tires the studs in them are quite small. To have properly impressive amounts of grip on a frozen lake you're always going to have to fit much more aggressively studded tires and that wasn't the case this year. This made the cars more difficult to drive which I suppose is no bad thing when the point is to learn and become a better driver. Still, even with the relatively low amounts of grip that the ice had to offer, you could go properly quick in the A7 as long as there weren't any very tight corners. On the faster sections you could dance with the car from corner to corner, at least until you inevitably went a little too quickly into a corner, ran wide and lost the rhythm. I'm not a rally driver and never will be, but it strikes me as the most challenging motorsport there is. There just doesn't seem to be a way to learn how to drive like a rally driver if you weren't born to be one.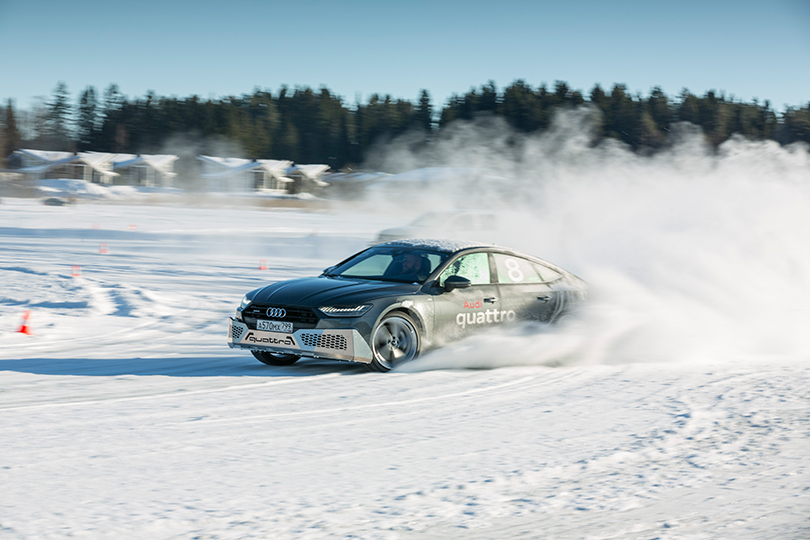 That doesn't stop Vasin's instructors to at least try and teach you some of the basics, though. Their persistence is quite admirable, in fact, though they are not keen to suffer any fools. If you screw up, repeatedly, they will certainly tell you exactly what they think about it over the radio. And none more so than the big boss himself, Evgeny Vasin, who really is a lovely man but he also sits on top of the list when it comes to the strength and decibel level of his radio-transmitted advice. Which is exactly what you need if you actually want to get better, of course. There's no point being told that you're brilliant when in fact you made a right mess of the corner where he was watching. Then, at the end of the day, he'd give you the obligatory taxi lap in an Audi RS5 with more seriously studded tires and show you how it's done. And Mr. Vasin makes the whole thing look so easy that you start to think that, if only they gave you that car on those tires, you could pretty much do the same. It would probably be a bad idea to put that into practice however.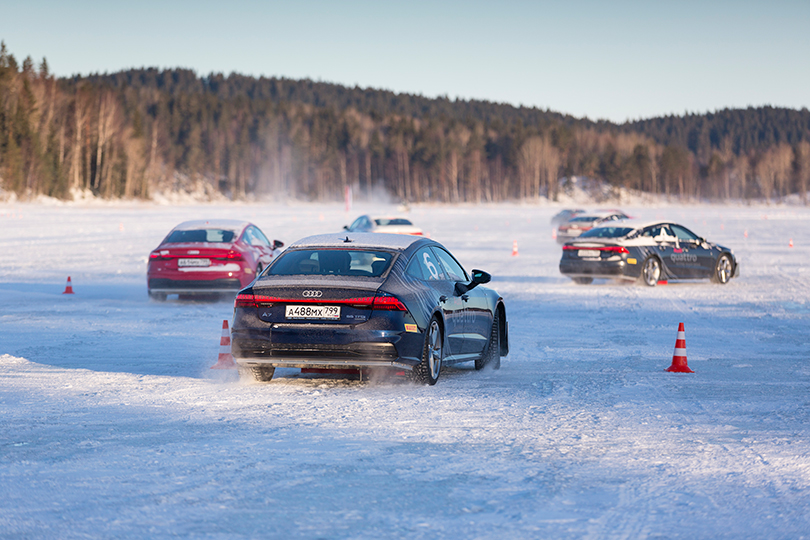 I suppose it's only fitting that it is Audi, the car company that wrote the book on making luxury road cars that could also drive up a ski slope, who have come up with what is beyond doubt the best winter driving program in Russia. Not only are its cars extraordinarily suitable to tirelessly rag around a frozen lake with sheer amateurs pretending to be racing drivers at the wheel, by teaming up with the Vasin Driving School they also snagged by far the best people to take the job on. If you like cars, driving and have a couple of days of your life available to live through a great, if cold, experience… I'm not sure what else there is to top it. I wouldn't even too much if we could skip past spring, summer and autumn in a hurry so we can do it all over again next winter. Well, that might be a small exaggeration, I admit. But not a big one.