From the perspective of someone who grew up in a temperate maritime climate, Russia's harsh winter seems to go on forever. And ever. Good thing, then, that this chilliest of seasons brings with it some unique opportunities. Amongst them, the Audi Winter Experience which involves driving on top of lake Ladoga while being coached by Russian rally driver Evgeniy Vasin and his driving school team.
These days, nearly every self-respecting car brand has a winter driving program in some form or other. For most of them, though, it seems to be mostly a marketing exercise which gives participants a crash course (forgive then pun) in the most basic of driving techniques before moving on to a small amount of actual driving in tightly controlled conditions. Audi, the brand which pretty much single-handedly started the all-wheel-drive revolution with its Quattro system back in the days of Group B rallying, does things a little differently. Their collaboration with the Vasin driving school means that you get a proper driving training — including the rather unique experience of Mr. Vasin himself shouting at you over the radio when you screw up a corner. (In fairness, he is equally happy to give out compliments when you manage to convert his teaching into proper driving). Given his pupils' tendency to repeat the same mistakes over and over, I think he actually has the patience of a saint given that he not once threw his radio at our heads.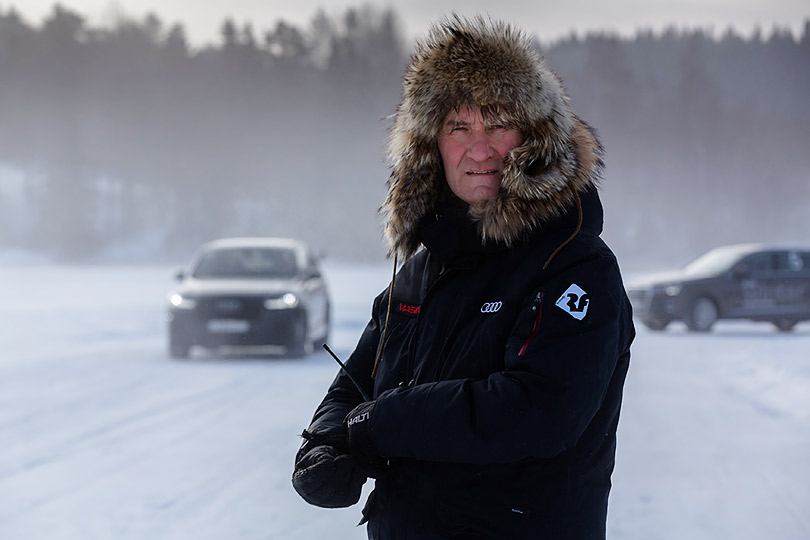 The cars used by the Vasin driving school this year are the Audi Q7 3.0 TDI and the A5 sportback 2.0 TFSI — both of course equipped with Quattro all-wheel-drive. While the choice of a large SUV might seem off for what is essentially a performance driving course, there is some logic to it. For one, spinning out of the course and into a snow bank is a pretty common occurrence and the Q7's ground clearance means that you can generally just drive out of it as opposed to getting stuck and needing a tow truck, which would create constant delays. But it's also a suitable practice vehicle because it makes your life difficult. Because the Q7 is as big and heavy as it is, and set up for safe driving rather than winter acrobatics, your driving technique needs to be absolutely spot on if you want to have any hope of getting through a corner quickly and gracefully. If you can do well in the Q7, pretty much any other car will feel easy to drive fast on ice afterwards. To use one of my mildly absurd analogies — trying to accurately slide a big SUV on ice is a lot like partnering up with an elephant for figure skating. It's tricky and looks a bit weird while you're at it.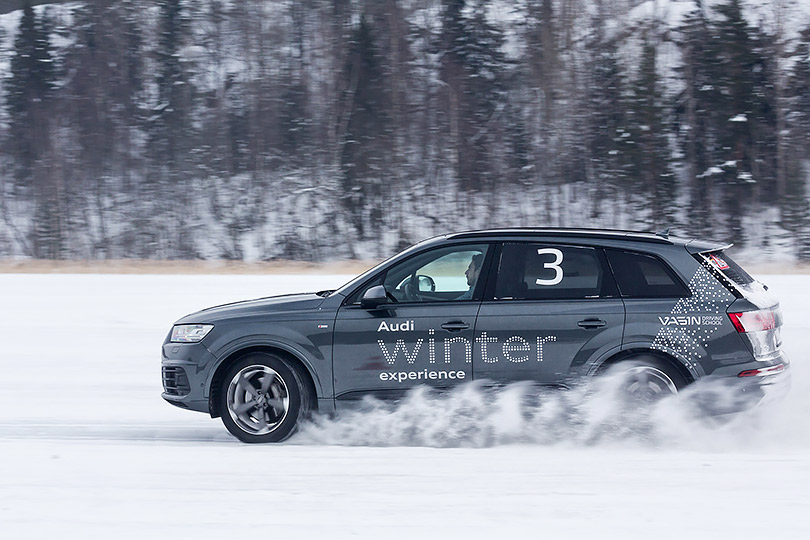 When the Q7's considerable mass is moving in a particular direction it's not that easy to change especially given that it's on regular road tires with only tiny metal studs. If your throttle, brake and steering inputs before entering the corner aren't absolutely spot on, odds are that you'll be adding new members to the group of plastic cones that you've been steadily collecting underneath the car. Whether you try to go in fast or slow, overcoming understeer where the front of the car wants to push wide is the main challenge. The front wheels by themselves have a limited amount of grip available to change the speed and direction of the car. If you can get all four wheels pushing things into the desired direction via a controlled slide you can increase cornering speed significantly. One of the basic skills that need to be mastered for that to happen is transfer the car's weight onto the tires that you require the most grip from (the fronts) while removing weight from those wheels that you want to unstick (the rears). In my experience, it takes quite a bit of practice, so it's a good thing that the Audi Winter driving course involves two whole long days out on the ice.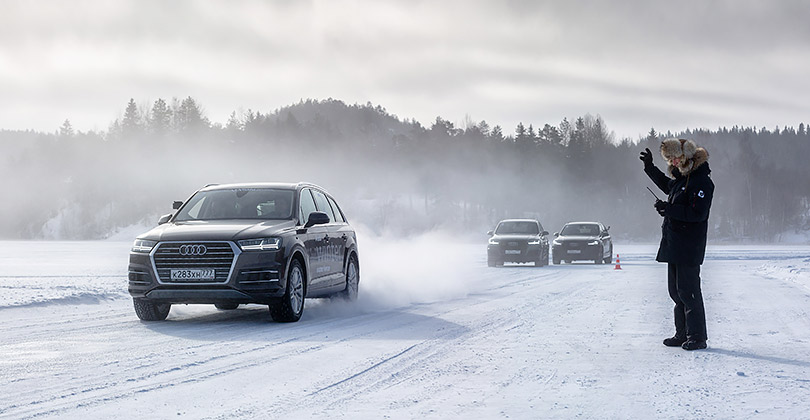 Of course, most of us were waiting for the time when we would be trusted with driving the school's much sportier Audi A5 sportback models, complete with tires that had much larger studs in them. On a frozen lake, the bigger the studs in your tires are the more grip you'll ultimately have. More grip also equals more speed and thus more fun and excitement. After more of a day of exercises in the Q7, the A5 sportback almost felt like a rally car by comparison. So much lighter, faster and easier to point to where you want to go. The front end of the car had absolute authority, making it much easier to choose the desired sideways angle into corners. Better tires obviously played a big role in this as well, but in any case the fun factor went up by a factor of at least 50 when we swapped into the A5. The lessons learned in the Q7 were easily transferred to this rather different car. The A5's Quattro driveline had a much sportier bias, but it could still be driven very very sideways and a liberal dose of throttle would bring it back in line from seemingly impossible angles. At the same time you could just as easily go for outright speed and drive it efficiently with smaller slip angles. If you weren't totally happy with the car's trajectory after turning into a corner, you still had a decent chance to adjust it mid-drift with the A5 as well which made life a lot easier. The car can flatter non-professional drivers to the point that it makes one feel like a bit of an ice driving hero.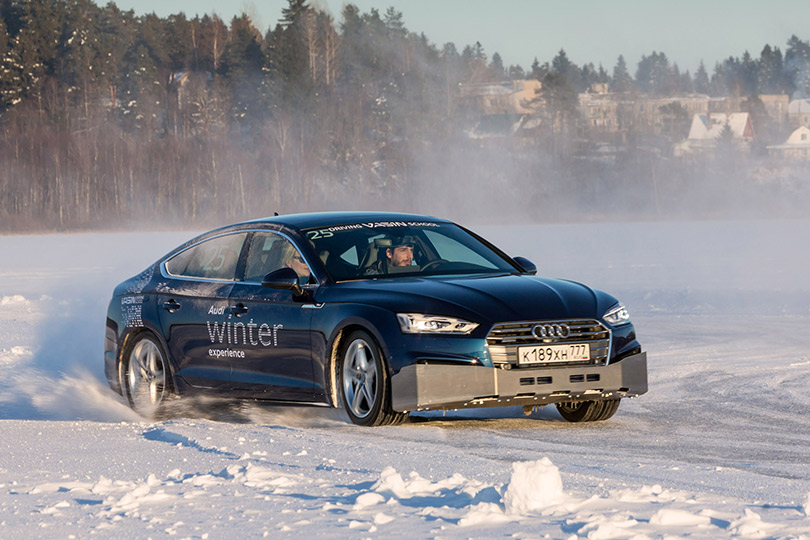 While it may not sound like much, 100 kilometres per hour on ice feels at least twice as fast as the same speed on a regular dry racetrack. At the end of the second day we moved onto the longest of the ice tracks which involved some higher speed sections and corners and it is here that everything kind of fell into place for me. While I still found very slow corners a bit of a struggle, at higher speeds it became pretty intuitive to dance the car from one corner to the next and the A5 was a willing partner every step of the way. Even when I figured I had carried as much speed through a corner as reasonably possible, the car gave enough confidence to add just a little bit more the next time around. When the instructors started taking two steps back from the ice track while I was on approach I figured I was probably going fast enough.
If anything got in the way slightly, it was the Audi pre sense system. Pre sense is a very nice safety system out on the normal road — it can tell when you're losing control of the car and on your way to a massive accident so it "prepares" for an impact by yanking the seat belts tighter, turning on the hazard lights and throwing a warning on the dashboard. While it would not interfere most of the time, whenever you were driving like a bit of a hooligan and throwing the car very sideways very quickly it didn't seem to have a huge amount faith in my ability to sort things out and instead went into full panic mode. At least the system did not interfere with the actual driving so you could just ignore it and carry on drifting while it was trying to squeeze the air out of your lungs with the seat belt. It would let go after about 30 seconds though, when the system was brave enough to open its eyes again and notice we had not in fact died. It's just one of those things that makes the street cars better but has unintended consequences when you do something silly like attempt to imitate Colin McRae.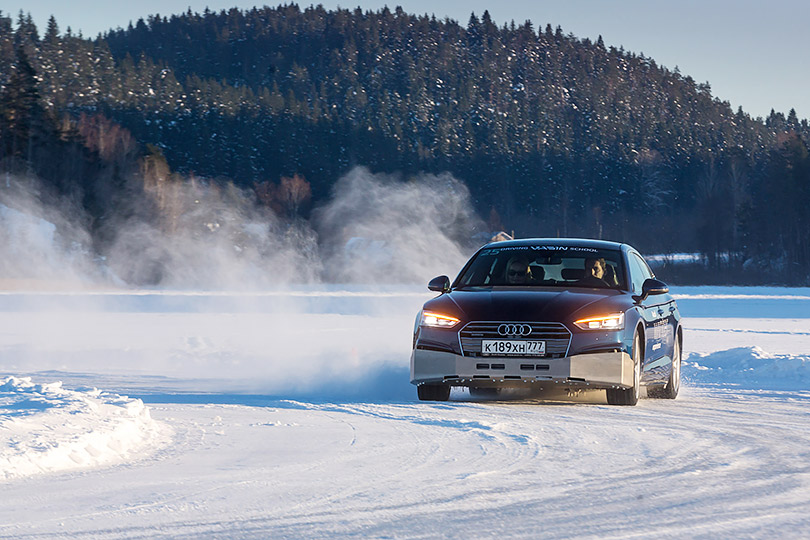 We were also treated to a little masterclass where we would join Evgeniy Vasin in an Audi S5 which sat on what must have been actual rally tires with properly big studs in them. Letting a professional rally driver, even if he's something of a senior citizen now, loose in a 350 horsepower all-wheel-drive car on ice can only have one result and it was awesome. The sheer grip and speed that are possible are mind boggling, even with a completely standard Audi S5. If you've read my review of that car then you know I found it a very comfortable daily car around Moscow but which is set up to be comfortably quick rather than hard and sporty. Turns out that all it takes is an icy expanse, some rally tires and a very very fast grandfather to transform it into an absolute monster.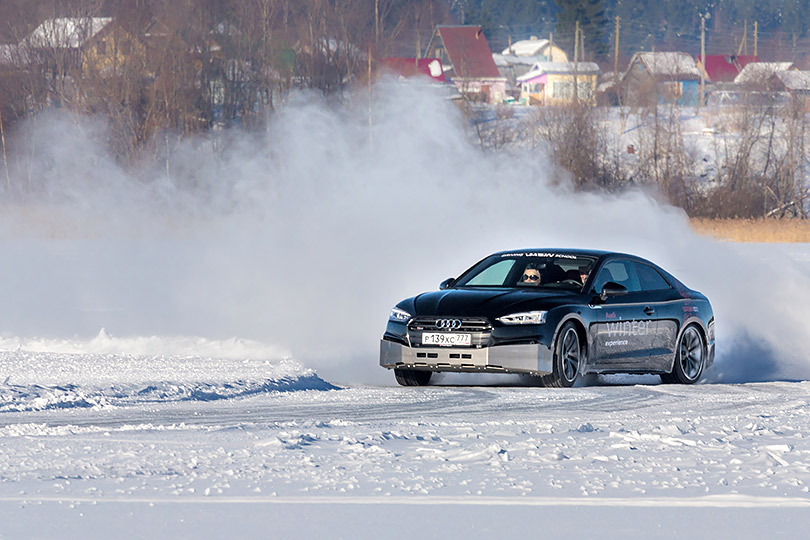 Of course there had to be a little friendly, but accurate timed mind you, competition to close out the event. A tight and technical course was set out for us and the challenge was to take an A5 sportback around it as quickly as possible. Hitting any of the numerous plastic cones that lined the track would mean incurring a 2 second time penalty for each one. With only one timed lap attempt per person, there was no room for error. I had made sure to put in my racing driver excuses beforehand, pointing out that running last of all cars would mean the track was slipper for me as with each lap a bit of grippy snow gets removed and more of lake Ladoga's ice gets exposed. My theory didn't seem to impress anyone. On my lap, I took it perhaps too easy in the two tightest and slowest corners of the track, but true to form I followed that with leaving insufficient space between the front bumper of the sliding car and the apex of a faster corner. For the cone that was stationed there, it was a bad day in the office. For me, it meant two seconds would be added to my otherwise respectable lap time. Some swearing may have ensued afterwards, but as it turned out my error had not changed much in the competitive order. Adding two seconds to my time still put me in second place, and even without the penalty the lap was just short of being fast enough. Finishing in second place was perhaps a slight redemption for the previous time I was involved in a timed race (I forgot to put the gearbox in drive before the light went green on that occasion) and I consoled myself with the fact that ice really isn't as natural a driving surface for me as asphalt is anyway. What else can a man do.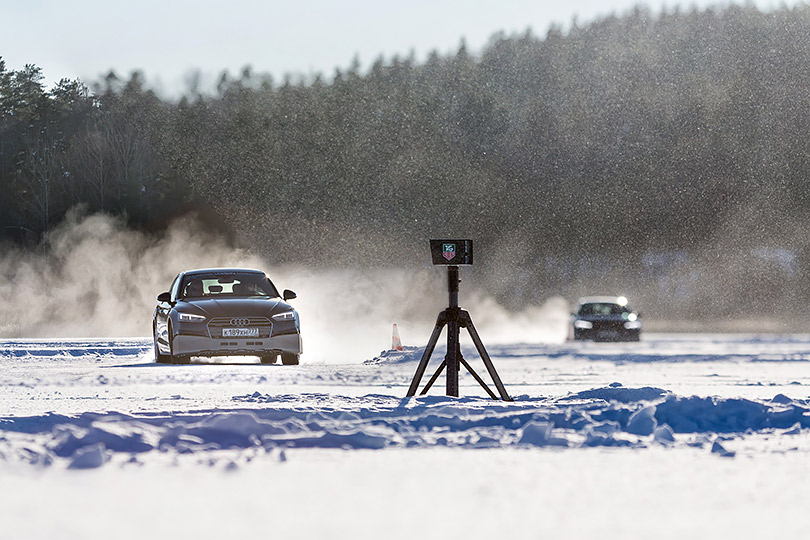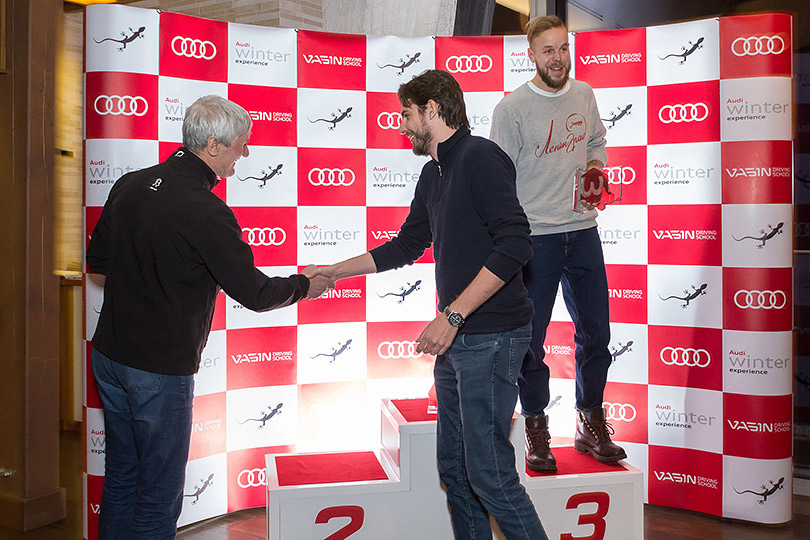 Being something of a driving enthusiast, it's hard to put into words just how much fun this winter driving course was. Obviously the requirement of a solidly frozen lake means that you need to travel quite far north, in this case Karelia not far from the Finnish border. Our group had the good fortune to be doing this in something of a cold spell, and I saw up to −25 degrees on the car's dashboard when we set off in the morning. So warm clothing is a bit of a necessity. Accommodation in the beautiful Dacha Wintera was excellent as was the food they served us three times per day when our bodies needed refuelling.
The Audi cars, for their part, were rock solid every step of the way. It's true that you can get pretty much every car of the premium segment with all-wheel-drive these days. But experience still counts for something, and Audi are simply the ones who started it. Quattro evolves with every generation but it remains a system that works extremely well in every situation. Day after day these cars are going sideways with the wheels spinning twice as fast as the car is going but there are no error messages, no overheating, the all-wheel-drive is permanent and seemingly unfazed about it all. Like a faithful husky dog, the A5 sportback seemed to be completely in its element out in the cold and on the slippery ice and snow. Much like me who was driving it, I don't think there was anything in the world that the car would rather have been doing. And it looked beautiful doing it, too. For the actual learning process, Evgeny Vasin and his team are genuine experts and great teachers. Whether you want to improve your car control for safety or speed, the Audi Winter experience is something that you will carry with you forever and with great memories to boot. At the risk of sounding somewhat masochistic, I can't wait for the next winter.