The A4 has long been one of Audi's bread and butter models.
Each and every generation of it, even back in the day when it was still called the Audi 80, has been a great success with buyers for good reason. I drove the latest generation, equipped with a diesel engine for a change, to take stock of how far this ninth generation of Audi's mid-sized bestseller has come.
The A4 has always been smart looking, slightly understated perhaps, but I must admit that with the B9 I initially thought that they had been perhaps a little too conservative. Especially considering the gorgeous appearance of the Audi A5, the A4's sister car, it seemed to look just a little bland. Fortunately though, there is the Sport model and S-line package to brighten things up and they do transform the car's appearance to a large extent. The dark red model I drove, with black wheels, definitely looked purposeful and expensive but still sufficiently restrained. Classic A4, basically.
If you're purely shopping for looks, then the A5 will still be the one to go for, but I imagine that's going to be a rather small minority of people. Practicality has always been high on the A4's priority list and it's also something of a value proposition when you consider that you get the same platform and technology as the higher priced A5 and it's available with some of the more economic engine options. There's the entry level 1.4 TFSI petrol engine with 150 horsepower and the 2 litre TDI diesel option which can be had with either 150 or 190 horsepower — it's the latter that I drove for this review. Of course the 2 litre TFSI petrol engines are also available, with 190 or 250 horsepower. Well, 249 hp to be exact, in a convenient nod to Russia's road tax brackets. Even the least powerful A4 will still do 0 to 100 kilometres per hour in a mere 8.5 seconds with a top speed of 210 kilometres per hour, while the top 2 litre engine is into the mid-5 seconds to 100 km/h and a top speed high enough to not matter at all.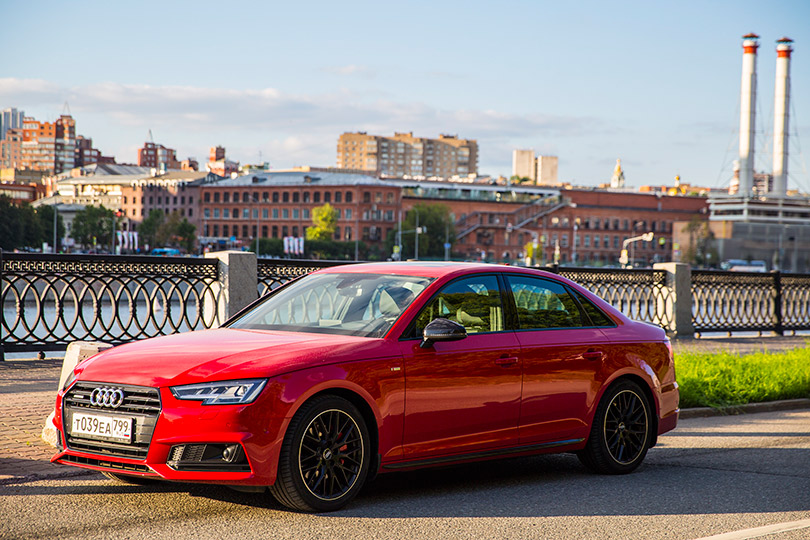 But speaking of speed, the A4 is very clearly a car that was designed with the unrestricted German Autobahn in mind. You never really get much sense of speed on the highway, and the car is happy to drive at very high speeds in an utterly effortless manner. Assuming there's no traffic, you could set the cruise control to 200 and cover massive distances very quickly without it becoming too taxing on your senses. The car doesn't mind, it seems to prefer it actually. It's no wonder that when you do drive on the Autobahn, the cars that tend to overtake you (at almost any speed) are quite likely to be Audi family cars. And with the TDI engine, fuel consumption is so low that you really don't need to worry about refuelling too often either. Even in the centre of Moscow, and its inevitable traffic jams. I usually saw an average consumption of less than 10 litres per 100 kilometres, which dropped into the 6 litre range on a run to the airport. When I eventually went and put in 1000 Rubles worth of diesel fuel, the range on the dashboard increased by 400 kilometres. To someone like me, who has a habit of owning cars that go through tanks fuel faster than Tom Cruise goes through motorcycles, it seems a bit like witchcraft.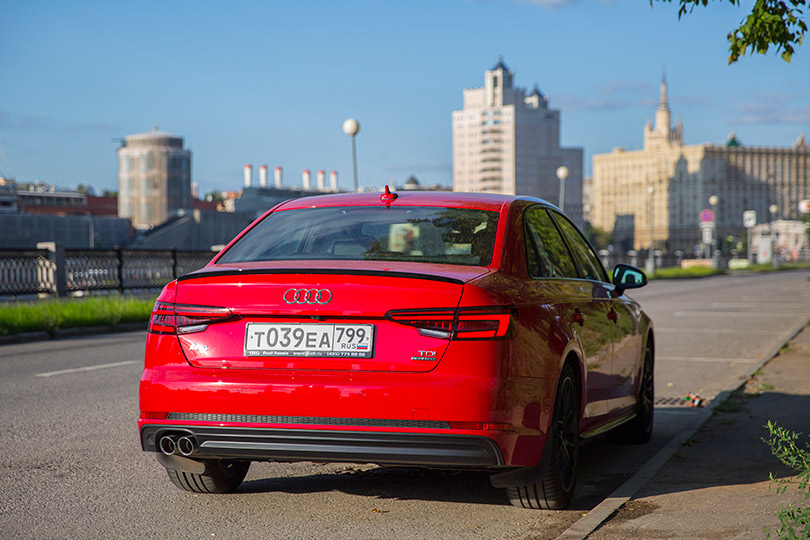 The driving experience itself is very much geared towards comfort, safety and efficiency. The steering is very light and precise but entirely numb. That would be a bad thing if it were a sports car, which of course the A4 really isn't, but for day to day use it's very nice to change direction and park with zero effort. The Quattro all-wheel-drive system is still the benchmark in many areas and will pay dividends in winter, though it must be noted that even the regular front-wheel-drive A4 will be a much easier companion in winter than a rear-wheel-drive car. The handling of this car is calibrated towards safety at all times. Even when you're driving this car faster than you should through a corner, it's your friend all the way through. The tires will start to complain at some point, but your passengers will probably be making noises about the G force well before that. It's about as relevant to this car as talking about the colour of a building which houses a Michelin starred restaurant, because the A4's driving pleasure is about how easily it does everything.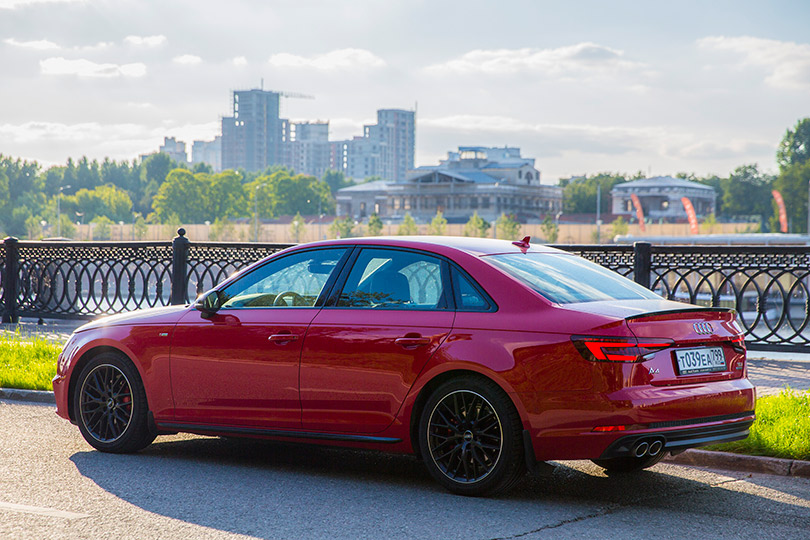 The TDI engine has lots of torque at low revs so you never need to strain it to get going at a decent pace. The 7-speed dual-clutch gearbox snaps through new gears quickly and without even the slightest jolt or judder. You can barely hear the engine, too. Another reminder of just how far diesel engines have come since the very first Audi 2.5 litre TDI engine which appeared in 1989 with 110 horsepower. Cold starting one of those could definitely wake up the neighbours, whereas in the year 2018 we have diesel engines that are touching the 100 horsepower per litre of displacement mark while barely making any sound at all.
Then, of course, there is the famed Audi interior. While its German rivals have certainly made big gains in recent years in order to catch up with Audi, you can still tell who is used to winning this game. The A4 cockpit is uncluttered, logically laid out with the notable exception of the volume knob for the infotainment system, and made out of expensive feeling materials. This being a rather sportily optioned car, it also had gorgeous carbon fibre inlays and red stitching which made the entire cabin feel special. The seats, of course, are comfortable hour after hour of sitting in them and I was pleasantly surprised that there is actually a decent amount of rear leg room in an A4 now. Certainly a lot more than there was 2 generations ago in the B7, a car that I'm most familiar with.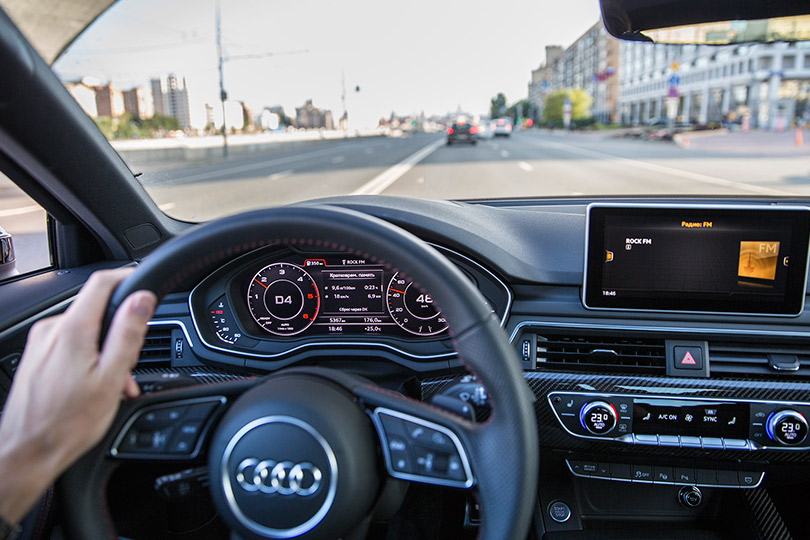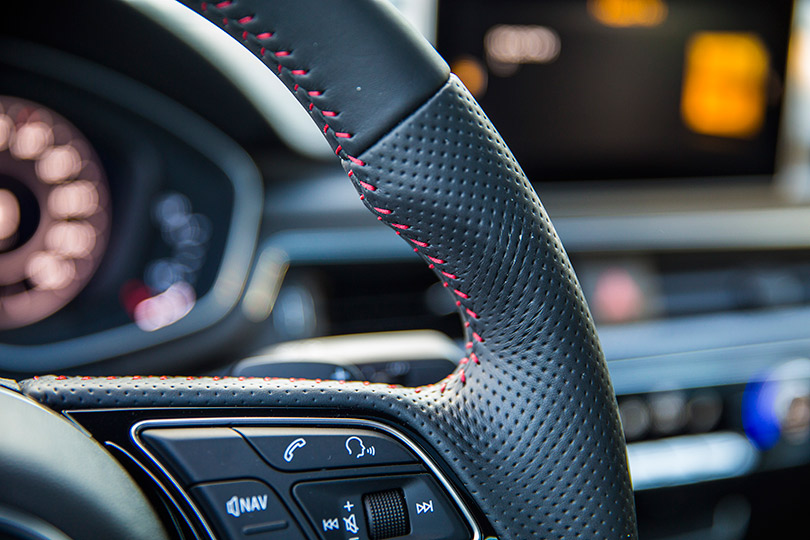 Another welcome development is that we're seeing very real weight reduction efforts now, with the B9 considerably lighter than its predecessors thanks to an effort to use lighter materials throughout the car. Less weight means better performance as well as lower fuel consumption and emissions, which is probably what is prodding car manufacturers to finally stop the trend of ever more heavy cars. A basic A4 with the 1.4 litre engine weighs in at only slightly over 1300 kilograms, which is lighter even than the lightest Porsche sports car. Obviously once you add a larger engine and Quattro all-wheel-drive the car isn't quite as light anymore, but there's still over 100 kilograms of weight that has been shed over previous generations.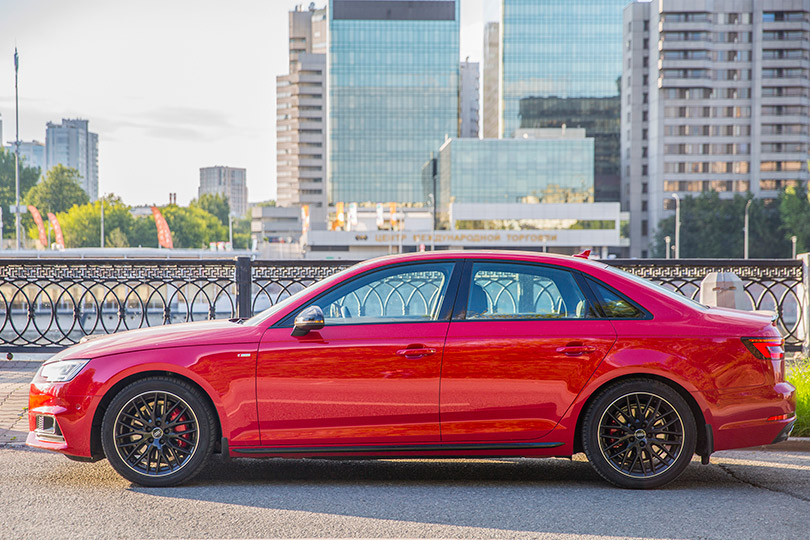 The conclusion of any A4 review is about as inevitable as it is predictable, so there is no plot twist coming. Audi knows what everyone expects of the A4 and there is no reason at all for them to re-invent the wheel. An A4 is always going to be a great daily driver, a terrific car to be in with conservative looks and handling. The B9 generation builds on everything that its predecessors have achieved while still becoming ever more refined and advanced. If everything in life was as predictably great as the Audi A4, there wouldn't be much left to complain about.