Sometimes, you meet someone who,
on a particular subject, you could spend all day talking with and into the night. And then proceed to have a chat over breakfast.
Along those lines, my interview with Richard Charlesworth could literally have gone on forever, and it very nearly did. As head of Bentley's Heritage collection as well as being in charge of VIP clients and Royal relations, he has a huge story to tell of a career that started over 40 years ago. But more than that, this man just loves Bentley from the very first model onwards. And who could blame him.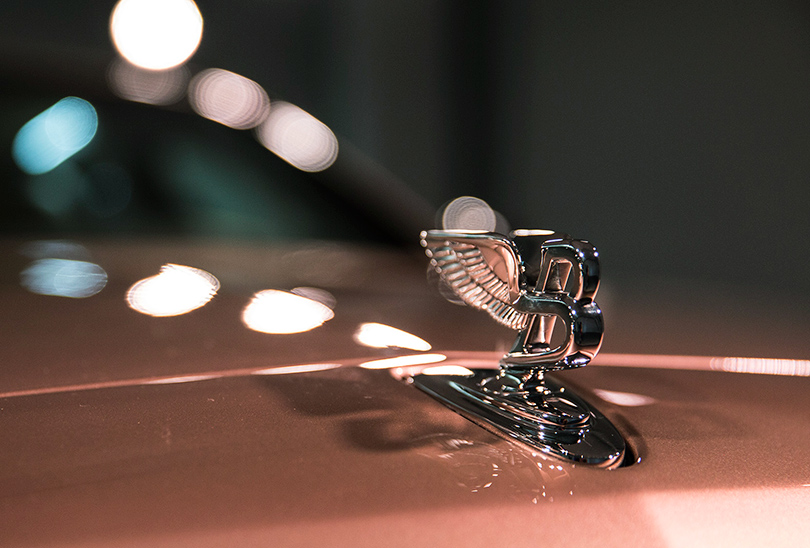 — So I had a quick Google around for your name…
— That's something I've never done.
— And I came across a couple of articles from way back. So obviously you've been with Bentley for a long time.
— Forty-one years.
— I'm sure there's a good story behind that, how did you start working there?
— I'm local. I was born just down the road from the factory. The factory is in Cheshire in England, near to Manchester. So it's not London. My family are farmers, so I was born in the next town and used to live on a farm from where you can see the factory which is about a mile away. And so I knocked on the door and said hello, please, may I have a job. And, luckily, it was good timing. As it happened, the UK sales director for Rolls Royce & Bentley, as the company was called then, happened to be in and he mentioned me to the scouts. It came to an interview there and then and I started a week later.
— Timing's everything.
— Timing is everything. Good fortune. Serendipity. So I started off writing the handbooks. In those days, if you got a new Rolls Royce or Bentley, you got a handbook and the first page had the chassis number, the key number, the radio code, the code for the paint, the height, and all of this was hand-written on a laminated page. So you had to use a barrel, ballpoint pen. My writing is very bad, so anybody who has a new Rolls Royce or Bentley built between 1974 and 1975 can't read anything. So I did that, that's how I started. I've been through various commercial roles and finally after some years I could focus on the VIP customers. That is for the last sixteen years and look after Heritage cars as well.
— And the Royal Family from what I've heard?
— And the Royal Family.
— How does that relationship actually work? The Queen's been using Bentleys for a long time. how did that get started?
—  Since we wear the Bentley emblem. The Queen, before she got married, she was Princess Elizabeth. She married the Duke of Edinburgh, Prince Philip, at the time, in 1947. Her father who was the King at the time used a Daimler. Not as in Daimler, Germany, but Daimler the black Jaguar. Daimler was there for the Kings ever since cars existed. For official purposes they used Daimlers, the big limousines. But the Queen — Princess Elizabeth and Prince Philip were given a Rolls Royce Phantom as a wedding gift from the British Royal Air Force. That was the first Rolls Royce that they had. It was delivered in Edinburgh green, which was the Duke's choice, the Prince's choice. Then when she became the Queen, in 1952, the car was re-painted in the Royal colours, which are black and claret. It was used as their official transport and since then they used Rolls Royce limousines, which we made, as we were Rolls Royce. The relationship grew and then when the two brands were split we went to the Queen to say that when we build the next state limousine we'd like it to be a Bentley.
The Queen was following closely the whole process of the company being sold when the two brands were split, she followed this because it's a British institution, she likes to be informed. She meets people everyday and she doesn't like to be in a situation where somebody might say, «So, Rolls Royce is being sold, is it?» As part of my duties as Head of PR, I used to be constantly updating the palace during the process so I built a relationship with them over a year to inform them about every twist and turn. So when, a couple of years later, we suggested that for the Golden Jubilee in 2002 we'd build a State Limousine, she said, «that will be fun». It's an important thing because it shows that her relationship and the Royal House's relationship was with us, not necessarily with the brand, a personal relationship. She was very happy for the car to be a Bentley. As you say, now she has a Bentley State Limousine since 2002. It's the same cars since then. We built the first car for her which as a gift and then the second car they bought.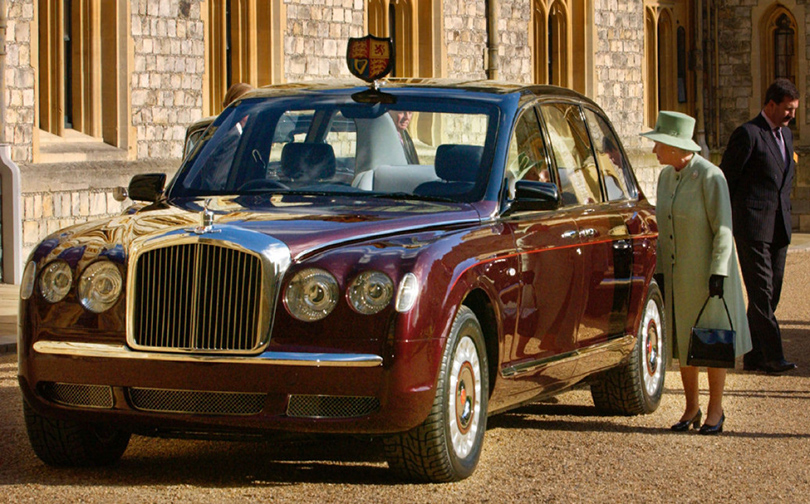 Her Majesty The Queen and Her Bentley
— So they were specially built for her, unique cars?
—  Yes. Well, they really were going to have one. We were gonna keep the prototype, because we built the prototype first to learn how to make it, then we built the actual car for her. The prototype was going to be kept by us to be part of our Heritage collection. But the Queen enjoyed the car so much that the Royal House, Buckingham Palace, asked us «Can we have that one too?» But first we completed a year of testing on the car so we understood what needed to be done to the car to maintain it over the next 15 years. Then we completely stripped it and re-built so it's identical to the other car. And that was a commercial transaction, they bought the car.
— What was your feeling within the company during the transition which, effectively, brought one of Great Britain's greatest companies under German ownership? Was there a concern about being able to keep it quintessentially British?
—  I was Head of PR at the time, so I was communicating. One must remember that Bentley was independent from 1919 to 1931. Then it effectively went bust and was bought by Rolls Royce, so we were part of Rolls Royce Limited from then on, a big company that made cars but also made aircraft engines, and commercial engines for generators. Then in 1971, that company went bust because of the problems with its big RB211 jet engine, which is still used by major airlines today. The company was then taken into state ownership, because it was of national importance as they also built engines for military purposes. But the state had no interest in owning a car company because that was not of national defence importance.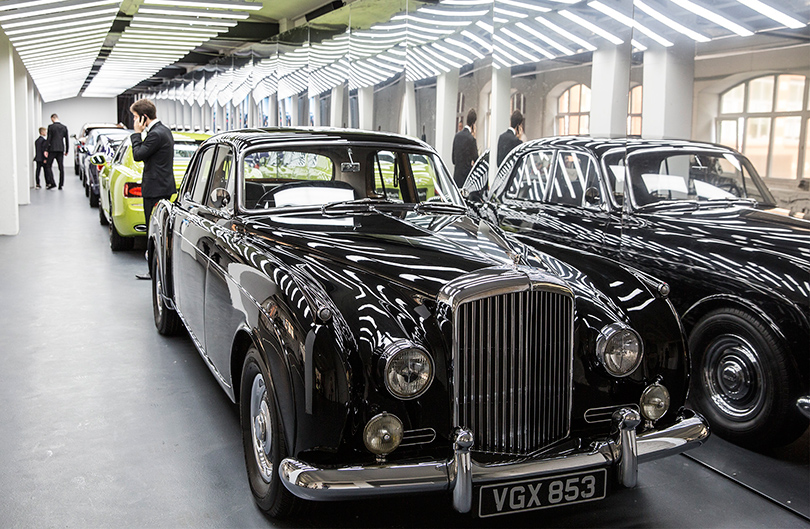 So the car company in Crewe was separated and remained in private ownership with shareholders. So we became Rolls Royce Motors Limited Crewe and Bentley was part of that. And it was interesting because you could not have a situation where a state-owned aero company did not own the rights to its name. So the rights to the Rolls-Royce name went to the aircraft company and we had a license in Crewe to make cars with the words Rolls Royce on them. So it was a license agreement, which was fine because it was kind of the same company anyway. Then that company merged in 1990 with a company called Vickers. Vickers was a traditional British engineering company. They used to make machine guns and tanks and lots of other things. They had just some of their business nationalised, so they had potted piles of cash but a much reduced business. The guy who was our Chairman at the time was on the board of Vickers, and he said to them, you got a big hole in your business and a load of money, We have a company that's short of money. And we were developing new products at the time, so we'd had all the expenditure of development but hadn't sold anything yet, so we were low on cash. So he said, why don't we merge? That is how Vickers and Rolls Royce Motors merged.
And everything was fine as long as that guy was in charge. When he left and a different Chairman came who was more Defence oriented so we became less and less important. For a number of years we were struggling to get cash to invest in product development, which was an issue. Then Vickers decided that they no longer needed that car business so the company was sold. Of course, at the time it was assumed that the Rolls Royce name would still be licensed to whoever bought that company. As it happened, there were several companies that were interested, BMW, Volkswagen and also there was a group of British business people that tried to get involved. As head of PR at the time I went to shareholders meetings of Vickers where they were voting on which offer to accept. That was interesting, back to your question, because there were lots of small individual shareholders, who've got like two shares in Vickers, and they have a vote. They come to shareholders meetings and we talk to them and they say, don't worry, we're gonna keep you British! And I said, do you want the best for the company? And they said, Absolutely! And I said, Great! Let's sell us to the Germans! Because that was the best offer.
The British motor industry has gone down, down, down over the years. British cars back then were poor products, under-developed, under-funded, bad quality. So we recognised the strengths of a big car manufacturer like Volkswagen or BMW, who were bidding for us. So while emotionally it was a concern about a very British company going to be owned by the Germans or somebody else, the heads said, this is what we need. From a practical point of view we knew this was the best route. Then you have the issue of who it was going to be of course, BMW or Volkswagen. We had had an arrangement with BMW already, because we were short of investment, we went to them for a new engine for the Rolls Royce Silver Seraph and the Bentley Arnage. Because we could not afford to develop our own engines at that point. So it was a universal assumption that we would be bought by BMW and Rolls Royce and Bentley would continue together. But Volkswagen then outbid BMW. And it was interesting because Ferdinand Piech, who was the Chairman of Volkswagen, he understood what was special about the crew of the company. He also understood that the greatest potential, in his view, was Bentley. He was very keen to do both, but Bentley was his main target. But then the Chairmen of Rolls Royce, the company that makes aircraft engines, said, actually we don't want to give the license to Volkswagen because we have a relationship with BMW. They had a joint venture making aircraft engines between Rolls Royce and BMW, so they said, we withdraw the rights to the name and we sell that to BMW. So that's when the two brands were split.
The problem for BMW was that even though they had got the rights to use the Rolls Royce name and the badge, the radiator grille and the Spirit of Ecstasy belonged to us. Because obviously the aero company didn't need those. Very clever. So we said, no, no, you can build the car and call it Rolls Royce, but you can't put a square radiator or a mascot on it. So what you're gonna do about that? So we needed to find a solution. As things happened, there was a meeting on a golf course in the South of Germany on a Saturday morning when the Chairman of Rolls Royce and the Chairman of BMW and the Chairman of Volkswagen had a round of golf and had a little chat over a coffee or glass of water. And a deal was done which kept Bentley with VW and Rolls-Royce would be sold to BMW. It was the best solution for everyone involved.
— One of my favourite Bentleys of all time is certainly the Continental R. They were a bit quirky, technically maybe not the best cars in the world, but they had something special that you couldn't put your finger on. And a billion dollars of R&D doesn't necessarily improve that?
— When the company was being sold, we went to Hamburg to prepare ourselves to our new owners, whoever they were going to be. We had two product strategies: one for Rolls Royce and one for Bentley. The one for Rolls Royce we put in the bookcase. The one for Bentley we opened up with our prospective owners and said, This is our ambition for what we would like to do over the next 10 years. And we shared that with them. And then we put a lot of work into those strategies. What it basically said was that with a much greater level of investments we could produce cars that were still true to that tradition, more of that sporting pedigree. A Rolls Royce is not a sports car, it's more of a limousine, it has more of a lofty status. So we had to disconnect a bit from that.
The Continental R was a good example of how to change the character of a car without really changing the fabric of it too much. With the new Continental family of two-door cars, and with the Flying Spur, we've got a more modern and more technologically advanced car, but still using the most wonderful materials. And with the Mulsanne we're trying to keep the comfort so it can be used as a limousine, but it's still an astonishingly fast sporting car in its own right. You can buy a two-seats sports car and you can be going at your maximum speed and a Mulsanne will come past you going «Morning!» Even with 5 people in it, watching movies, because it's simply faster! If you go to our website, there was a thing called Bentley visionaries. Different people talking about their passions but sitting in a Bentley Mulsanne. Jackie Chan did it, talking about his charity work. The one I was thinking of, there was a guy called Andy Green who is the fastest man of the world, he does the land speed record, he is a British Royal Air Force pilot. We gave him a Mulsanne, a standard Mulsanne, on the Bonneville Salt Flats in America where all the land speed runs were done. And you've seen the film, he's like, no sunglasses, no aviators, no special overalls. He gets in the Mulsanne and he takes off down the Salt Flats. And he gets to a hundred and ninety-one miles an hour in on the Salt Flats. And he says, This is so easy, and turns the radio on to listen to music at a 190 miles an hour. This is easy. This is in a two-and-a-half ton Mulsanne.
I spoke to him about this afterwards and he said, Yes, but what you forget is the reason you can see me is because sitting next to me is a cameraman, and behind in the backseat is the sound guy and the producer with the screen. And in the boot there's a lot of stuff. There's four of us and a lot of luggage and I'm doing a 191 miles an hour and it's easy in the huge Mulsanne. So the spirit of the Continental R lives on in these new cars.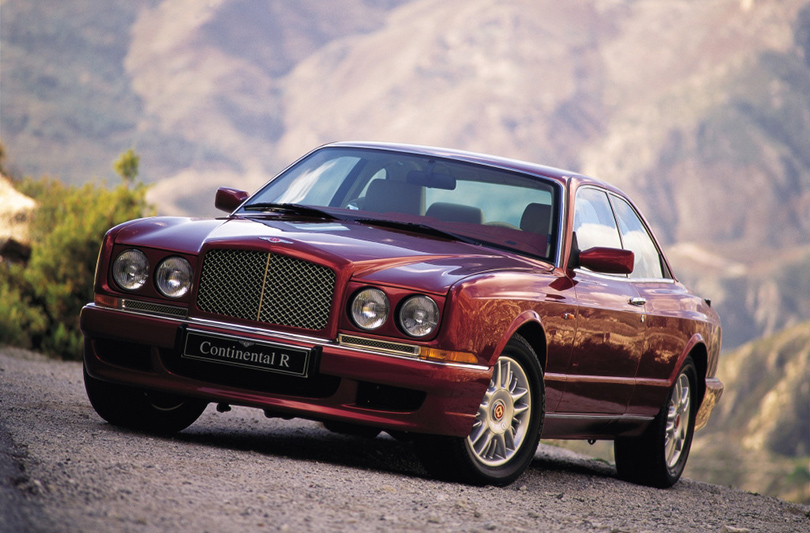 Bentley Continental R
—  And this is where we'd like to use the Heritage collection. It's a very good way of describing it to people like you and to customers as well, why is the car like that. If you came to Bentley with no knowledge of our history then you would say, it's a big car, isn't it? We'd say, yes it is. It is big, because that's a Bentley. And the thing is that this car will still be doing exactly what it does today in 50 years time, when others will have given up. Because it's a big strong car. I'm biased, of course. There are certain other cars that you can drive. And you drive them back to back and you think, That one's a boy. This one's a man. This car has gravitas, it has heft, it has presence. And that's the way we've always done it. And going back to what I said earlier, there's some great pictures of the Brooklands racing circuit in England in the 1920s. You see some guy in his little Bugatti with a 1 litre engine, at seven thousand rpm. And suddenly the sky goes dark and along come this big Speed Six Bentley, twice the size, twice the height. It breezes past the Bugatti at the top of the bank doing only two thousand rpm.
— I've seen the Bentley GT3 car on the Nurburgring Nordschleife, which is a very narrow track, the Bentley seems like it takes up half the track.
— You can't get past it.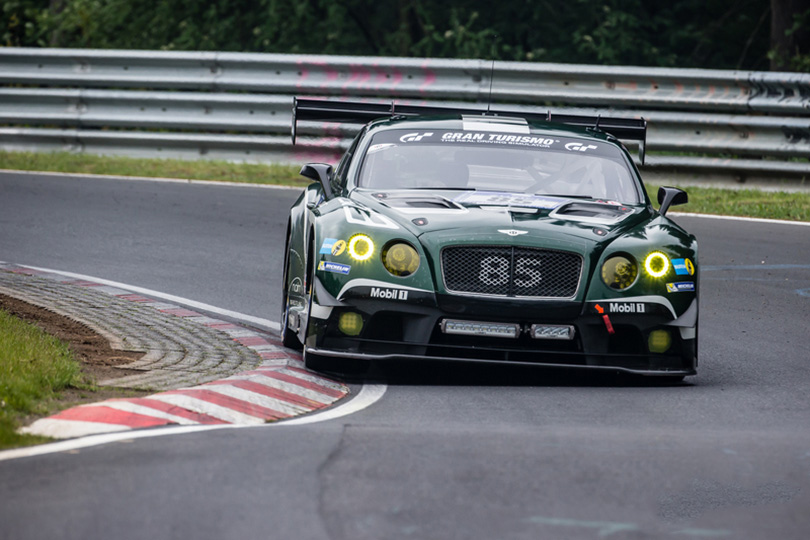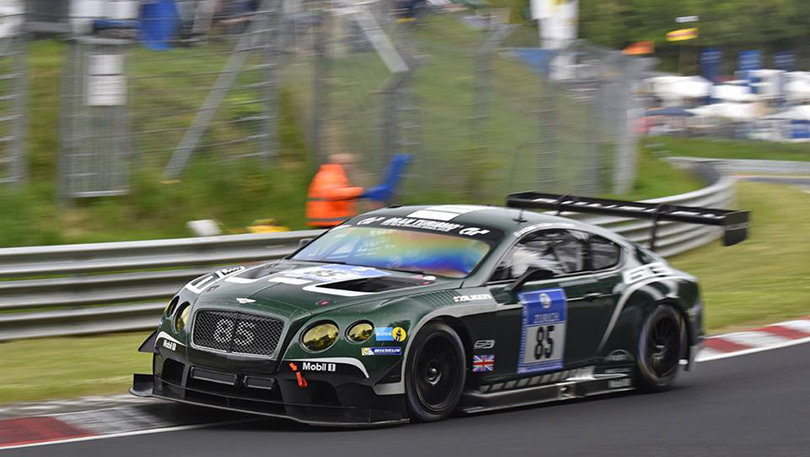 — Exactly. But from an engineering perspective it's amazing, because it shouldn't do that, if you look at it, it just doesn't look right. But somehow it does it.
—  Yeah. It does. And it's great because this reminds everybody that that's how we're tracing the legend of Bentley. The people who drive them, they love it, the spirit of being the Bentley boys. Tom Kristensen is the most successful Le Mans driver ever with eight wins, and one was in the Bentley. When he signed his name, he putsTom K, Bentley Boy. When they won it in 2003, when they went up the stage to get their trophy, they all had the white overalls and the helmets. It was a reminder of where we're coming from.
— I've seen the pictures you driving the 1930s or even earlier Bentley, that thing is huge, surely a bit tricky to drive?
—  It is, yeah. I've driven the Blower Team car, which is on that picture, which is the most valuable Bentley in the world. I've driven that on the Mille Miglia three times. That's four days, twelve hours a day, double-clutching every gear change, and it's a workout, but it's fantastic. I do it usually with a journalist, and I prefer to drive, really. I said to my journalist colleague once, So I'll drive? — No, no, I want to drive! Great, you're a guest. It's one of those things, when you know how to do it, it's fun. But it's a very different experience to driving a modern car.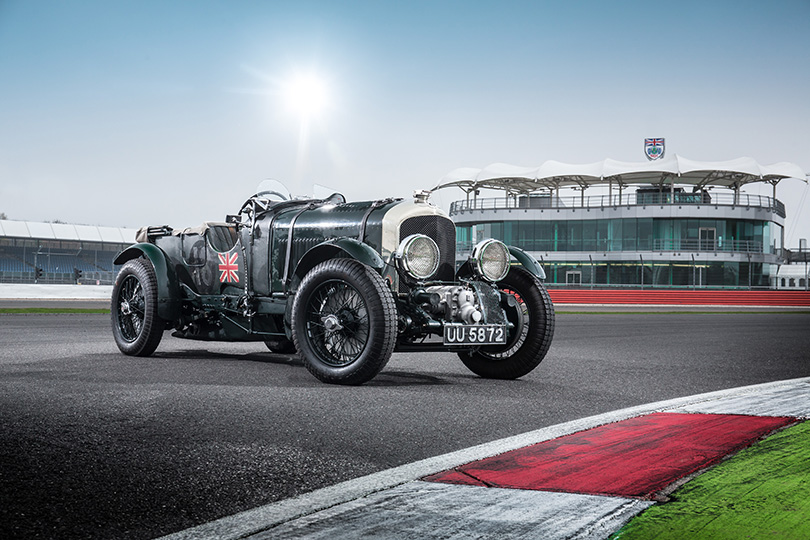 — The obvious question then: Your favourite Bentley of all time?
—  It's an easy answer. It's Old Number 2, which is 1930. The company built two cars to race. It's the only time they actually built cars to race. The other cars were road cars that were adapted to race. But those two Speed Six Bentleys are 6 and a half litre, Speed Six. Big, open four-seat tourer. And the cars were new in 1930 for Le Mans. But they raced at Brooklands as a sort of a warm-up race. It's called the Double Twelve, where you race 12 hours, stop, next day race 12 hours. They must do 24 but the residents around the area, very expensive houses, said no, no, can't race in the night. The car that was later called Old Number 2 and Number 3 came first and second. And they went to Le Mans. Old No 3 crashed into a sandbank but No 2 came second. This car, Old Number 2, was owned by the same family for many years, from the thirties through until 2004. It was then sold at auction and bought by the current owner who is a big collector. He spent a lot of money restoring, conserving the car as it was, as it raced on Le Mans in 1930. He spent a lot of time and effort to research it and make sure that everything in the car was as original as it could be, he changed nothing unless it had to be changed. So the fabric is the original fabric, it's all cracked and broken, but it's the original fabric. He's had it preserved. But the cars drive is just astonishing. And I've driven it over the Golden Gate Bridge. And I've driven a lot because the owner was very generous and let us use it. And it's just the best car in the world.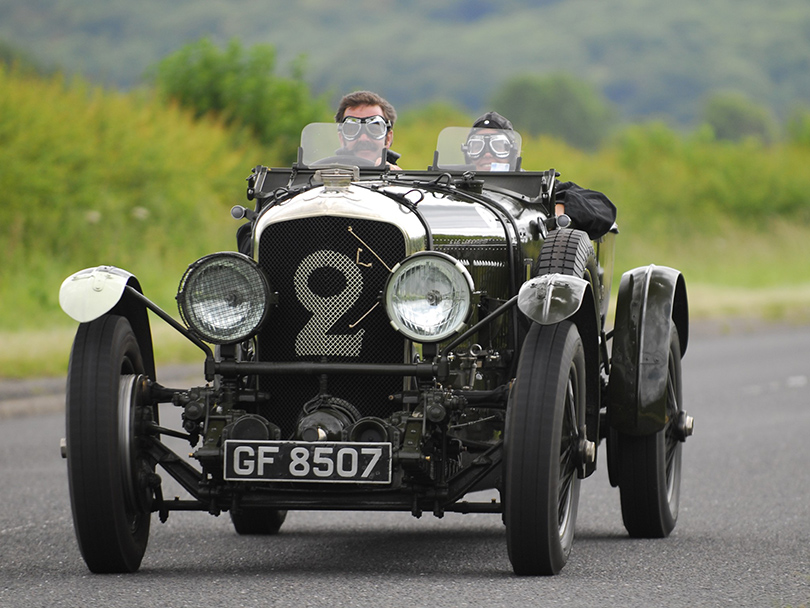 — It's important to drive these cars, not store them away, if you'd ask me.
—  You are so right. But luckily, our customers, even though these old cars are hugely valuable, these people buy a Bentley to drive it. Most of these are still used a regularly. Even though they're worth millions of any currency, they're used regularly. And that's the way it should be. Old cars, especially Bentleys don't like sitting in a glass case, they like to be used. It's good that we have people who recognise that. And they are all part of family. They like to connect with us, we like to connect with them. They're very proud of the fact that they're a little part of Bentley history.
— Brian Johnson of AC/DC, he has a very old Bentley come to think of it. I'm guessing you might know it?
— Yeah, it's a 4 and a half liter. It's called Thunder Guts. He did a series on the British television, so he went to various companies, he went to Bugatti, he came to Bentley. I spent a day with him at Crewe. We drove in, his choice, an 8 litre Bentley which is the last Bentley that Mr. Bentley built as an independent company. It was Mr. Bentley's own personal car. There were a hundred cars built, this is the second chassis. And it was W.O. Bentley's own car and Brian wanted to have a go in it. So if you watched the program, he's sitting and I'm driving it. On this car it's central throttle, so you have clutch, accelerator, brake. And that you have to remember. Luckily, I've driven enough so I don't think about it. But this is why we're careful of letting people drive the car when they're not used to it. But Brian, he's a legend, what I liked about him was that he was enthusiastic and he was asking questions that the viewer would want to ask. Whereas with certain other programs, the person goes, I'm the expert and I will tell you, because I'm the expert. Which I don't like so much. But Brian, he was enthusiastic and knowledgeable, but he was asking questions that the viewer would want to ask. So I said, good for you, mate.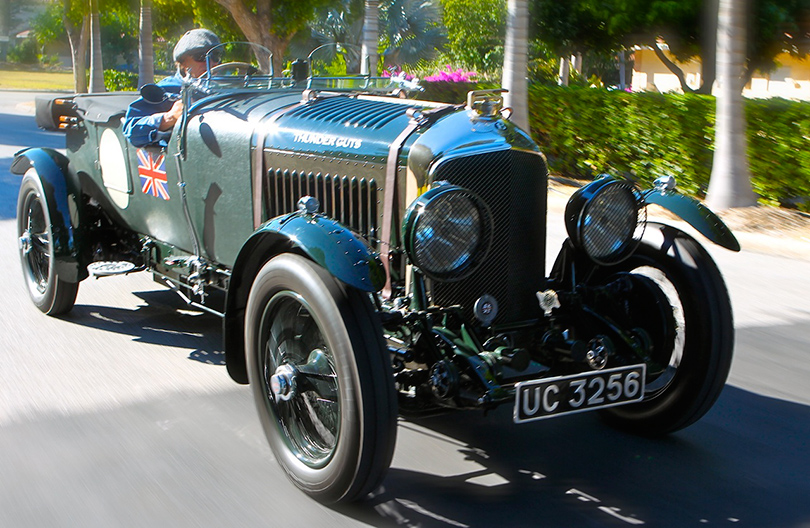 Brian Johnson of AC/DC with Thunder Guts, his 1928 Bentley 4½ litre